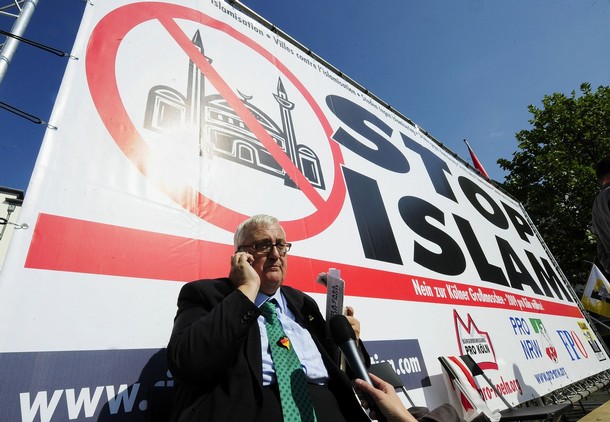 Mario Borghezio at a rally organised by the German far-right organisation Pro-Köln
An ally of Italian Prime Minister Silvio Berlusconi has triggered a storm of protest after he described as "excellent" some of Norwegian terrorism suspect Anders Behring Breivik's ideas.
Mario Borghezio, a European Parliament member for the anti-immigration Northern League, said he agreed with Breivik's "opposition to Islam and his explicit accusation that Europe has surrendered before putting up a fight against its Islamisation."
Borghezio told the host of talk radio programme La Zanzara that he did not agree with Breivik's use of violence, nor with the "Protestant" Norwegian's "anti-Papist" stance. But he said that "some of the ideas (of Breivik's) are good, in certain cases even excellent."
The Northern League is the junior partner in Berlusconi's conservative government.
The centre-left opposition called for Borghezio to resign from the European Parliament. "It is a matter of shame for all of us that a representative of the ruling coalition made apologetic remarks about one of the cruelest acts of terrorism," said the Democratic Party's David Sassoli and the Italy of Values party's Niccolo Rinaldi, both European parliamentarians.
Update:  See also "Ex-Berlusconi minister defends Anders Behring Breivik", Guardian, 28 July 2011
Northern League MP and former minister Francesco Speroni is quoted as saying: "I'm with Borghezio. I don't think he should resign. If [Breivik's] ideas are that we are going towards Eurabia and those sorts of things, that western Christian civilisation needs to be defended, yes, I'm in agreement."