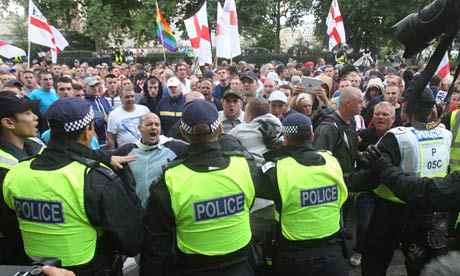 About 600 supporters of the EDL tried to march to the East London mosque on Whitechapel Road on Saturday but were stopped by police near Aldgate East station, around 600 metres from the mosque.
East of the police lines a far larger counter-demonstration waved Unite Against Facism and Hope Not Hate banners.
The march started just after 1pm south of Tower Bridge and the marchers walked through the City of London shouting and singing: "England" and "I'm English till I die." Marchers included members of similar groups from Poland, Finland and Germany.
Police said they had arrested ten people, including one for possession of a bladed weapon and the other for the possession of an explosive substance, a firework. The EDL leader, Stephen Lennon, was also arrested after the march for breach of his bail conditions.
There were fewer marchers than at a similar event two years ago but police numbers were far greater. All possible routes from Tower Bridge to Whitechapel Road were blocked to demonstrators.
The EDL had lost a high court argument on its right to march through the heart of the borough of Tower Hamlets.
The Tower Hamlets mayor, Lutfur Rahman, and John Biggs, a local Labour London assembly member, were among the campaigners who listened to speeches at Altab Ali park, named after an Asian garment worker who was murdered in a racist attack in May 1978.
Rahman said he was "very fed up" with having to deal with these demonstrations, saying:
"We just want to get on with our normal lives. We are celebrating peace and tranquillity. We are not espousing violence. The people who want to talk about violence and inflict violence and hate on others can just go back to their nests and their holes. We are a united community and we are a diverse community. Young people are not coming out today because they are frightened."
Biggs said it was "atrocious" that the march had not been banned and urged people to stand up against racism. He said: "Tower Hamlets is a vibrant and diverse borough which I am proud to call home. Like many other areas of our country, there are problems such as unemployment and poverty but the EDL blame others for our country's problems in an attempt to divide us".
EDL leaders had wanted to rally in an area in Tower Hamlets which they say is "subject to sharia law", but Mr Justice King ruled on Friday that a police decision to impose restrictions over fears of "serious public disorder" was reasonable and proportionate.
Only 600 EDL? Rather fewer than the "thousands" that were predicted.
Update:  See "Thousands attend counter-demo as EDL march through east London", East London Advertiser, 7 September 2013
And "Tower Hamlets demonstration rejects EDL's racism and Islamophobia", Islamic Forum of Europe media release, 7 September 2013