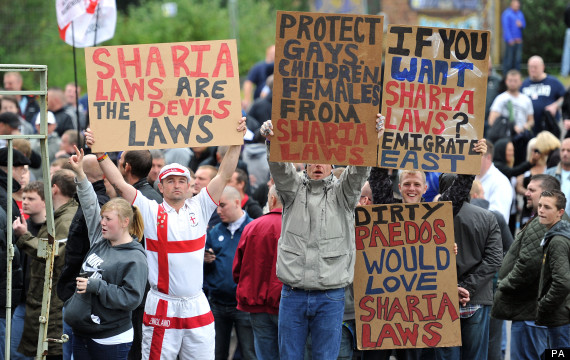 Leaders of the English Defence League have begun a High Court fight for the right to demonstrate in an area of east London which they say is "subject to Sharia law".
They told a judge at a hearing in London that they objected to police preventing an English Defence League (EDL) march – planned for Saturday – entering Tower Hamlets. Police have told Mr Justice King that they imposed restrictions on the route marchers could take because they feared an outbreak of "serious public disorder".
The EDL describes itself – in a website "mission statement" – as a "human rights organisation" and says it believes that "proponents of radical Islam have a stranglehold on British Muslims".
Jamas Hodivala, for the EDL, told Mr Justice King, that police imposed "disproportionate" restrictions on the march route because of concerns about the effect of counter-demonstrations. He said the EDL had been prevented from gathering in Tower Hamlets before.
"The EDL wishes to go into Tower Hamlets to demonstrate against two things," he said. "The first thing is that Tower Hamlets is an area that has become, some would say, subject to Sharia law and the EDL wish to highlight that fact by demonstrating in Tower Hamlets."
He added: "The second point is that there are occasions when individuals in the Tower Hamlets area have been subject to assault for failing to comply with Sharia law. These are the points the EDL wish to bring to the public attention by demonstrating in Tower Hamlets itself. Tomorrow represents a repeated attempt by the EDL to enter Tower Hamlets for the purpose of demonstrating peacefully."
Mr Hodivala said rights to freedom of expression and of assembly enshrined in the European Convention on Human Rights had to be "jealously scrutinised and jealously guarded".
Press Association, 6 September 2013
Update:  See "EDL lose appeal over 'Sharia' march", Evening Standard, 6 September 2013