The East London Mosque has issued a statement calling for peaceful opposition to the English Defence League in Tower Hamlets tomorrow.

Against Racism and Islamophobia
Who are the EDL?
The English Defence League (EDL) is a fascist, racist and Islamophobic far-rights organisation that seeks to divide communities across the country. The EDL have used their hatred to vilify the Muslim community in the UK. Numerous Mosques and Islamic Centres have been targeted with arson attacks in wake of Lee Rigby's murder, which we strongly suspect the EDL was behind.
The EDL is targeting Tower Hamlets because we have one of the biggest Muslim populations in the UK. The EDL have repeatedly tried to enter Tower Hamlets in the past to bring violence and public disorder to the streets of the borough. On the 7th September, they plan to do the same. The EDL is no different to any other extremist group that seeks to impose its skewed views on others.
Community Response
We need to remain strong in our resolve that we do not accept the EDL; and we do not let them enter Tower Hamlets. There is a strong need for the community to make a united stand with all others in solidarity on the day. This is a peaceful gathering from the community.
We need to ensure that all of our young people act responsibly and protest peacefully. The Police will have a robust arrest policy for Saturday and will arrest any individuals causing public disorder.
There may be other unplanned occurrences on Saturday, which will not have been planned for – it will be the task of the police to take care of those situations as swiftly as possible – without letting any harm come to the community.
The communities of Tower Hamlets, as in the past, will always take a strong stance against racism and hatred. We trust you will join us in this celebration of diversity on the 7th Sept.
United East End and Unite Against Fascism
In conjunction with the community, United East End (UEE) and Unite Against Fascism have organised an event to take place at Altab Ali Park on Saturday from 11AM to 4PM. UEE is an umbrella body representing community groups, faith leaders and the residents of Tower Hamlets.
Islamic Forum of Europe (IFE) and the East London Mosque
The East London Mosque relies upon the support of the IFE and its volunteers to assist with stewarding and other vital tasks. Over 600 stewards will be active on the 7th of September to ensure the safety and wellbeing of the community. It is vital that members of community listen and take instructions from our stewards as and when necessary for their own safety.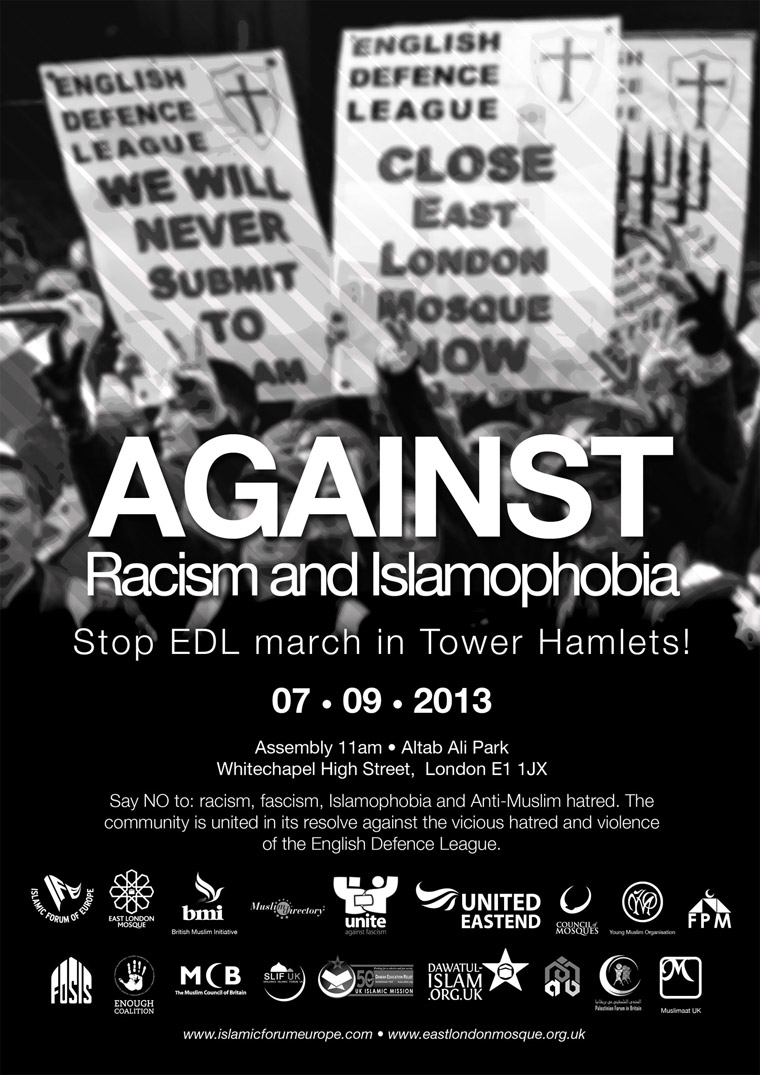 See also Muhammad Abdul Bari, "A New 'Battle of Cable Street'", Huffington Post, 5 September 2013
Update:  See "East London mosque awaits EDL march with fear and frustration", Guardian, 6 September 2013