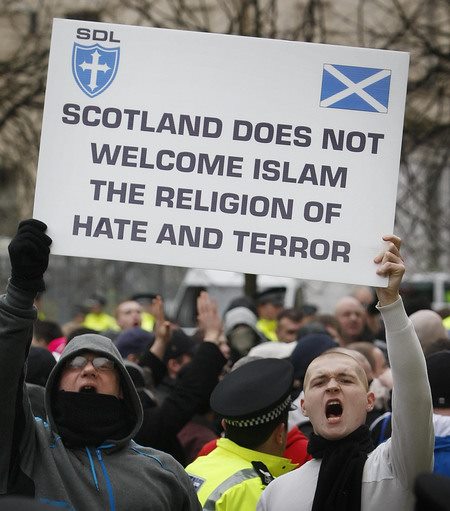 Around "200 officers" were on hand to police an unauthorised demonstration by an extremist group on Saturday, an MSP claimed.
Police and riot vans gathered at Glasgow's St Enoch Square to meet demonstrators from the Scottish Defence League (SDL), an anti-Islamic organisation which claims to campaign against radical Islam and Sharia.
The SDL had applied to Glasgow City Council to hold a parade through the city, but their application was withdrawn after a civic coalition of political party leaders, trade unions, religious groups and campaigners signed an open letter in protest at the march. The SDL indicated that they intended to hold a "static demonstration" instead.
Some SDL demonstrators are understood to have gathered in St Enoch subway station beneath the square shortly before 12pm. One entrance to the station was sealed off. A counter-demonstration by anti-fascist groups, trade unions and political parties also took place in nearby George Square.
SNP MSP Humza Yousaf, who drafted the protest letter sent to Glasgow councillors, attended the George Square counter-demonstration. He said there were about "200 police at least" and a number of riot vans at St Enoch Square.
Mr Yousaf added that about 100 people from Unite Against Fascism, The Green Brigade and other organisations also gathered at St Enoch Square to resist the SDL gathering, and a further 100 or so people from the trade union movement and political parties met at George Square to voice their protests.
Mr Yousaf said: "Glasgow and Scotland has a proud tradition of fighting this vile and toxic hatred in our city streets. Where ever the SDL go we will come out in bigger numbers, and will be louder in voice, because the people that believe in tolerance, diversity and multiculturalism far outweigh those who believe in division, hatred and racism. There will always be more of us than there are of them."
Update:  See also "Police swamp Glasgow city centre far-right demo", Sunday Mail, 26 February 2012
Via Scotland United Against the Racist SDL, here is a photo of the SDL's Glasgow rally. Not a roaring success, I think it would be fair to say.