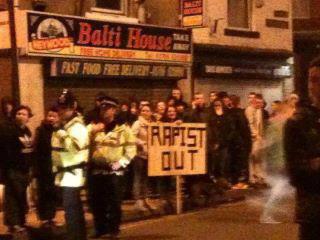 Police have stepped up patrols in the Heywood area of Rochdale following violent disturbances which saw officers pelted with bricks and other missiles.
A Greater Manchester Police officer suffered bruising to his legs and arms during the trouble which erupted on Thursday. No other injuries were reported.
Windows were damaged at a fast food outlet, believed to be an Asian takeaway business, in Bridge Street, while three police vehicles and a car belonging to a member of the public were also damaged.
A gang of around 200 youths congregated in the Bridge Street and Market Street area of Heywood before the trouble flared, with police dispatching a number of vans and dog units to the scene. Shops and takeaways closed and their steel shutters lowered before trouble-makers threw missiles at policemen and nearby vehicles.
They were later dispersed by a line of officers with some shouting, "EDL!" as they went.
Associated Press, 24 February 2012
Update:  See also "Rochdale takeaway attacked as youths clash with police", BBC News, 24 February 2012
As the BBC report indicates, the attacks were in reaction to the case currently being heard at Liverpool Crown Court, where 11 Rochdale men of South Asian origin are charged with sexual abuse of under-age girls. Some of the alleged abuse centred on Asian-owned takeaways, but media reports have emphasised that these are now under new ownership.
Here, via EDL News, is the English Defence League's initial response to the riot (since removed from its Facebook page):

Update:  This has now been posted on the EDL Facebook page:

It was followed by a series of comments applauding these sentiments, including support for arson attacks from former EDL North West regional organiser Paul Carpenter ("Pablo Carpo"):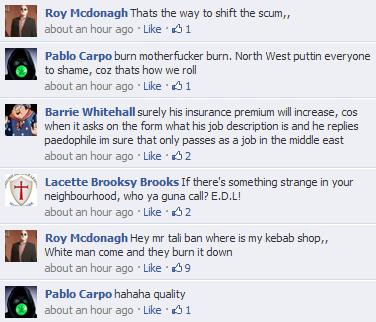 And here is another prominent EDL member who has no problem with arson:

Update:  See "Mob attacks Asian restaurant linked to sex grooming court case", Independent, 25 February 2012