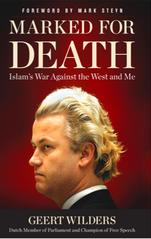 A new book by Geert Wilders aimed at the American market is not due to be officially launched until May 1, but details gleaned from advance and review copies are already doing the rounds.
The book is entitled Marked for Death, Islam's war against the West and me and according to Wilders' own website "tells the story of Geert Wilders' fight for the right to speak what he believes: namely that Islam is not just a religion but primarily a dangerous ideology which is a threat to Western freedoms."
The book will be officially presented at an as-yet secret location in the US, and is regarded by some as Wilders' calling card to America. The Dutch MP has made no secret of his international ambitions and is keen to launch and International Freedom Alliance, he saidlast year.
Magazine HP/De Tijd looks at one incident in the book in which Wilders writes how he was robbed by "three Arab youths" in the Utrecht district of Kanaleneiland – an area of poor housing and high unemployment.
In fact, the robbery took place in a more upmarket part of town several kilometres away the magazine says, citing references to the incident in a biography of Wilders published several years ago.
Tom Kleijn, Washington correspondent for television show Nieuwsuur says the book is a dry, almost academic recount of "how Wilders has become what he is". The book even contains an index and sources, he points out. "Wilders has a small, rich and fanatical group of followers in America," Kleijn said. "But it remains to be seen if this book will boost Wilders' popularity."
Current Dutch president Mark Rutte is not mentioned once, but Wilders states five times that he and Ayaan Hirsi Ali, the Dutch Somali Muslim critic who now works for a US think-tank, are of the same opinion, Kleijn points out.
Nos correspondent Eelco Bosch van Rosenthal describes how Wilders emphasises his admiration for former US president Ronald Reagan and states current president Barack Obama is a dhimmi – a submissive non-Muslim in a Muslim state.