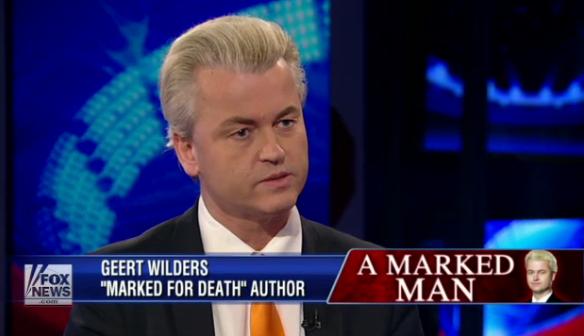 PVV leader Geert Wilders has called on Muslims throughout the world to leave Islam. He made his call in a speech in New York, to promote his English-language book Marked for Death.
Wilders claims that his book explains that Islam is a "totalitarian ideology" and is an encouragement to freedom-loving Muslims to turn their back on Islam. "I support those who fight for freedom in the Islamic world completely. The Arab, Turkish, Iranian, Pakistani and Indonesian peoples have enormous potential. If they could free themselves of the yoke of Islam, if they could stop seeing Mohamed as their role model and if they could break away from the rancorous Koran, then they could achieve amazing things," Wilders said in his speech.
With reporters, Wilders went into the political situation in the Netherlands last week when he caused the collapse of government by pulling out of the budget negotiations with the conservatives (VVD) and Christian democrats (CDA). Wilders calls this a difficult decision, but says he had no other choice.
"We are now concentrating on elections on 12 September. Our campaign will be on the need to revive our national sovereignty, as without this we cannot defend our identity and fight against Islamisation." Wilders said he was not planning to move to the United States. "I am really staying in the Netherlands and will campaign for the elections with very much enthusiasm and very much good sense," he said yesterday on Radio 1.
A number of media suggested last week that Wilders might be considering an international career because his role in the Loer Hose appears to have been played out for the coming period. Former VVD MP Ayaan Hirsi Ali, also a fighter against Islam, moved to the US in 2005 and was subsequently named by Time Magazine as one of the 100 most influential persons.
See also "Wilders rage against Muslims channeled in Dutch Euro voter", Bloomberg, 2 May 2012
Fox News has given Wilders a platform to plug his anti-Muslim views with an interview on the Sean Hannity show. Over at the National Catholic Reporter Michael Sean Winters comments:
"… even I was shocked to find Sean Hannity hosting Geert Wilders – and promoting his book – on his Fox News show last night. Wilders is the Dutch nativist who believes Islam is at war with the West – not, some Islamicists, mind you, but Islam per se. This man is beneath contempt, a bigot pure and simple. Why anyone would want to highlight his work or his person is beyond me. But, then, I am not a Fox News programmer."
See also "Hannity paints anti-Islamic extremist Geert Wilders as a martyr – and fear mongers about World War III", Newshounds, 2 May 2012