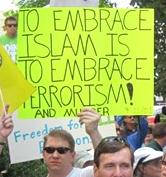 Steven Emerson has 3.39 million reasons to fear Muslims.
That's how many dollars Emerson's for-profit company – Washington-based SAE Productions – collected in 2008 for researching alleged ties between American Muslims and overseas terrorism. The payment came from the Investigative Project on Terrorism Foundation, a nonprofit charity Emerson also founded, which solicits money by telling donors they're in imminent danger from Muslims.
Emerson is a leading member of a multimillion-dollar industry of self-proclaimed experts who spread hate toward Muslims in books and movies, on websites and through speaking appearances.
Leaders of the so-called "anti-jihad" movement portray themselves as patriots, defending America against radical Islam. And they've found an eager audience in ultra-conservative Christians and mosque opponents in Tennessee. One national consultant testified in an ongoing lawsuit aimed at stopping a new Murfreesboro mosque.
The Tennessean, 24 October 2010
An interesting article by Bob Smietana, examining the highly profitable Islamophobia industry in the US. In addition to Emerson's Investigative Project on Terrorism, Smietana also deals with the Nashville-based Center for the Study of Political Islam, Frank Gaffney's Center for Security Policy, Jihad Watch, ACT! For America and the American Congress for Truth.
Via LoonWatch