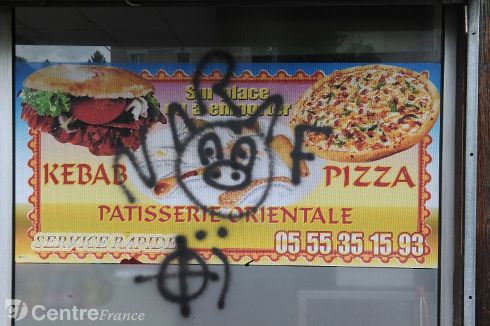 Kebab restaurant graffiti in Palais-sur-Vienne
La Montagne reports that following the desecration of a mosque on Saturday night, other places in the Limoges area in west-central France were also subjected to "explicitly Islamophobic graffiti".
The same Odal runes that were sprayed on the doors of the mosque also appeared on the Boulevard Schuman bridge. But here they were accompanied by Celtic crosses, the word "Oi" and the initials "NRF".
"Oi" is an obvious reference to skinhead culture, but La Montagne's correspondent notes that the only far-right group known by the initials NRF is Troy Southgate's now defunct anarcho-fascist National Revolutionary Faction. So it is unclear who the authors of the neo-Nazi graffiti are.
In the neighbouring town of Le Palais-Sur-Vienne a kebab restaurant was also the victim of extremist graffitists. Here, along with a Celtic cross and the letters NRF, a pig's head was sprayed on the window.
La Montagne observes that Limoges is not an isolated case, as a similar attack on the Muslim community was carried out in Montauban in southern France, where pig's heads and blood were dumped outside the mosque.