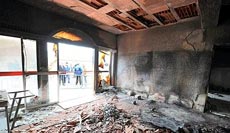 Muslims in the southwest city of Toulouse woke up on Monday, April 21, to the sad view of a burned local mosque, but were divided on the possible arsonists.
"This is very shocking," Abdul Nabi al-Hamrawi, the imam of Al-Salam Mosque, told IslamOnline.net. "We have no idea how or why this happened. We have no problems whatsoever with any of our neighbors."
The mosque, located in the Toulouse suburb of Colomiers, was set ablaze on Sunday, April 20. Officials say a dozen firefighters quickly put out the fire, but only after it had gutted the inside of the mosque.
Investigators and rescue officials quickly concluded it was a deliberate act of arson. They say the fire broke out after a garbage can was set alight inside the Muslim place of worship. The attackers were thought to have entered the mosque through yanking its doors open.
Interior Minister Michele Alliot-Marie called the attack an "odious act" and vowed to apprehend the culprits. "All efforts will be exerted to indentify the perpetrators and bring them to justice."
Local Muslims gave different scenarios about who could have attacked the mosque, inaugurated in 2006 to serve the city's Muslim community.
"This is open to all possibilities," Abdul Qader bin Ganna, the Union of French Islamic Organizations (UOIF) official in Toulouse, told IOL. "It could be Islamophobia, but an inter-Muslim dispute could not be ruled out also."
Ganna cited recent frictions involving different groups of Muslims, mainly from Moroccan origin, regarding control over the city mosques. "Some of them even traded punches inside Al-Salam Mosque," he recalled. The Muslim activist also notes that the mosque lies in a small industrial area. "There were never complaints of hostilities with non-Muslim residents."
But Ammar Muakkran, a Muslim resident, believes the arson attack was Islamophobic. He sees a link with the recent desecration of 148 Muslim graves in Notre Dame de Lorette cemetery, France's biggest war cemetery, earlier this month. Muakkran suspects both attacks were the work of far-right extremists.
Islamophobic attacks have recently surged in France, home to a sizable Muslim minority of nearly seven million. The cemetery desecration was the second in a year. Last week, a mosque in the city of Besancon was defaced by racist and neo-Nazi graffiti.