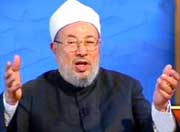 Writing on his Abu Aardvark blog, Marc Lynch draws our attention to the detailed analysis by the Combating Terrorism Center at West Point of Ayman al-Zawahiri's recent response to questions submitted over the internet.
Read the CTC analysis here.
The authors note the importance Zawahiri attached to attacking Yusuf al-Qaradawi, to whom he devoted a large section of his response: "Zawahiri's disdain for Qaradawi is so strong that he says he 'wished' to be asked a question about the Egyptian legal scholar." They add: "Despite the priority that Zawahiri placed on answering a question regarding Yusuf al-Qaradawi, we found that only five of our 1,888 questions, or less than one-percent, dealt with Qaradawi by name."
Which does rather underline Ken Livingstone's point about Qaradawi's role in the Muslim world as the leading opponent of al-Qaida, doesn't it?