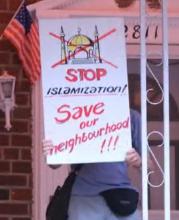 Angry Sheepshead Bay residents came out in a show of force on Sunday to protest a planned mosque and Muslim community center in their neighborhood.
"If they build a mosque there, I'm going to bomb the mosque," said one outraged resident who lives across the street from the proposed house of worship between East 28th and East 29th streets on Voorhies Avenue. The resident, who refused to give his name, identified himself as a former Israeli soldier who had lived on Voorhies Avenue for eight years. "I will give them a lot of trouble," he added. "They're not going to stay here alive."
Such comments were certainly the most violent, though intolerance was common at the rally, which was organized by the group Bay People. Political correctness was shoved aside as members of the group put out its agenda: We don't want a mosque here.
"We cannot tolerate foreign interests coming into our backyard telling us what we are going to do," said speaker Bob Giovinazzi. "It's hot today, but things are going to get a lot hotter for people in this illegal structure."
"New York is not Islamabad," said Diana, a nurse who refused to give her full name. "Do not forget 9-11!" Voorhies Avenue resident Victor Benari further whipped up the audience by adding, "Each Muslim terrorist is tied to a mosque."
Benari's diatribe infuriated local resident Guseyn Ibragimov. "What right do you have to deny people a place of worship?" asked Ibragimov, whose father is a Muslim. His mother is half-Jewish, half-Christian. "No one protests a church or a synagogue being built in a Muslim neighborhood." Rally attendees booed Ibragimov down, ordering him to get off their street.
"This isn't right, they're just showing their hate," Ibragimov said as he stormed off. "They call themselves Americans, but what kind of America is this?"
The Brooklyn Paper, 28 June 2010
Update:  See "CAIR-NY asks FBI, NYPD to investigate bomb threat against mosque", CAIR press release, 28 June 2010
Further update:  See "Sheepshead bay group rallies supporters and scrambles to halt plan to build Voorhies Ave. mosque", New York Daily News, 30 June 2010