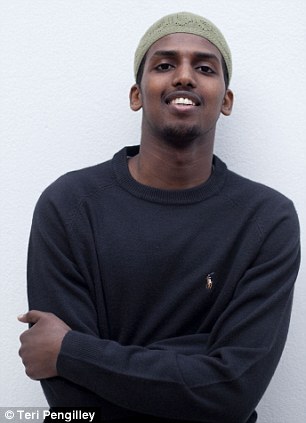 The family of a former Haverstock School pupil say they are shocked and relieved after the FBI revealed he had been captured in Somalia and charged with serious terrorism offences in New York.
The New Journal reported last month on serious concerns for the welfare of Mahdi Hashi who had not been seen or heard from since the summer. It was feared that the 23-year-old, who grew up in Camden and lived in Gilbeys Yard, Chalk Farm, was being held captive in an African prison camp.
It followed a controversial decision by Home Secretary Theresa May to revoke his citizenship over alleged links to "Islamic extremism".
Yesterday (Thursday), his mother, Kaltum, said: "It is such a shock and very hard for us. But we are also very happy to hear he is alive."
She added: "We spoke to his lawyer in the US and they say he is doing good. He is being kept in a small room and alone. They checked his health and it is good. They say we can write him a letter and we will do that, definitely."
She was speaking after the Federal Bureau of Investigation (FBI)released a statement on Sunday warning that her son is facing a minimum 30 years in prison.
Mahdi, and two others, are accused of "weapons and explosives training", being "deployed in combat operations" and participating in "an elite suicide bomber programme" with the Somali terrorist group, al Shabaab.
Mahdi came to Camden, aged 6, and went to Primrose Hill and Rhyl primary schools before getting his GCSEs at Haverstock. He volunteered for the Kentish Town Community Organisation and was presented with special award certificates by the Camden Mayor in the Town Hall.
His family told the New Journal last month an ex-prisoner at the Djibouti camp had got a message to their extended family in Somalia saying he was being held captive there. When his family in Camden asked for diplomatic help from the British government they were told his citizenship had been revoked by Home Secretary Theresa May over alleged "Islamic extremism".
The unusual step has led human rights lawyers and campaigners to question the role of the British government in what they describe as a "unique case". They believe the decision to revoke his citizenship was part of a covertly orchestrated plan to smooth the process of his capture by the US authorities.
His solicitor, Saghir Hussain, said Mahdi's story had "all the hallmarks of rendition", adding: "Here is a young lad from London, has lived in London most of his life, has travelled to Somalia to meet his family, and then he is picked up.
"His British citizenship is withdrawn around the same time that he is kidnapped, and this is where we will be asking the government questions as to what knowledge do they have. Did they conspire with the Americans to deprive him of his citizenship to enable them to kidnap him and hold him in secret detention?"
Mahdi's campaign is being run by CagePrisoners – a group that helped spring its current director Mozzam Begg from Guantanamo Bay prison – which said yesterday his case was "unique".
In a statement Mahdi's father, Mohamed, said: "Mahdi has never been accused of breaking any laws or harming anyone in the UK. He has been a British citizen for 15 years but then his citizenship was taken away suddenly and now we find out that he is in New York." He added: "We are not some slaves who can be passed around from one owner to another."
After returning from time abroad in Egypt and Syria in 2008, Mahdi worked for the Kentish Town Community Organisation helping young people with difficulties in their personal lives. His family said he and other volunteers at the centre were victim to "sustained harassment" by the secret services after refusing to spy on "practising Muslims" living in Camden.
He was accused of having links to Al Qaeda and warned he could only prove his innocence if he worked as an informer for MI5, his sister, Fatuma, told the New Journal last month. She said Mahdi had started an engineering course at university in 2009 when he left for Somalia to look after his sick grandmother. In 2010, Mahdi got married and last year the couple had a son.
Releasing details of his capture on Sunday, the FBI said Mahdi was detained in Somalia in August while allegedly on his way to Yemen. On October 18, a grand jury in the Eastern District of New York returned a sealed indictment against him, and on November 14, the FBI took custody of him and took him to New York.
The FBI's assistant director in charge, George Venizelos, said: "As alleged, these defendants are not aspiring terrorists, they are terrorists. They did more than receive terrorist training: they put that training to practice in terrorist operations with al Shabaab. Their capture and prosecution are important steps in the continuing campaign against terrorism."
The Home Office has refused to comment on the issue, saying it was a matter of national security.