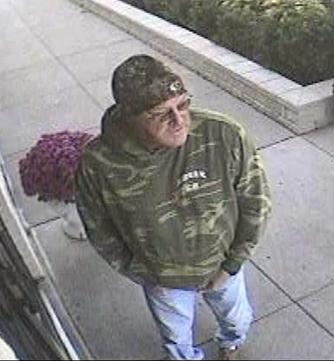 Randolph Linn is behind bars after pleading guilty to federal arson and related crimes committed at the Islamic Center of Greater Toledo, but local Muslim leaders are concerned there may be more people like him out there.
Linn, a 52-year-old truck driver and ex-Marine from St. Joe, Ind., was initially charged with one count each of intentionally damaging religious property and using fire or explosives in commission of a felony for the Sept. 30 arson attack. A third charge, of using a firearm to commit a crime of violence, was added by a grand jury Dec. 18.
He pleaded guilty to all three counts in U.S. District Court in Toledo on Dec. 19 as part of a binding agreement and could be sentenced to 20 years in prison in April. He will also be required to pay a $250,000 fine and restitution that may exceed $1 million.
"Yes, justice has been served and the Islamic Center will be rebuilt and we will meet inside it and continue to do so. But the actual problem hasn't been dealt with," said S. Zaheer Hasan, a spokesman for the United Muslim Association of Toledo.
"There's a bad feeling, first of all because of the environment, which is becoming hateful," he said. "The arson attack was an isolated incident, but it was a product of that hatred."
Mahjabeen Islam, president of the Islamic Center, said it was "upsetting" to sit through Linn's hearing, during which the suspect vented his hatred of Muslims. "It was terrible because he was guilty, but he has no remorse at all," Islam said. "It was very apparent to everyone that he blamed the media; he blamed Fox News; he tried to blame alcohol."
Linn told U.S. District Judge Jack Zouhary that prior to his crime he drank 45 beers in seven hours. He then said he spontaneously decided, after seeing a wounded U.S. soldier on television, to get into his Chevrolet Sonic and drive 82 miles from St. Joe to Perrysburg.
He brought three firearms and stopped along the way to fill three gas containers, authorities said.
Linn said in court that he had hauled his truck many times past the domed mosque at the junction of Interstates 75 and 475.
According to Islam, when Zouhary asked Linn if knew any Muslims personally, he replied, "No, I only know what I hear on the radio and see on Fox News." He told the judge that Muslims are "going around killing us," Islam said.
Zouhary told Linn that the attack on the mosque was an attack on all places of religion. "You are no better than the terrorists or extremists you sought to punish," the judge told Linn.
Islam said she believes irresponsible media coverage fanned Linn's hatred and distorted his view of her faith. "My feeling is that the media needs to be more responsible. The combination of ignorance about Muslims and Islam, and hate and alcohol, and then whipping up all of this hatred in the media, is a lethal combination," Islam said.
Damage to the mosque from the blaze and from the building's sprinkler system and firefighters' hoses is estimated at $1.5 million, Islam said, adding that insurance is covering the expenses. Repairs are scheduled to be completed by the end of March. In the meantime, the mosque is holding Friday prayers at a Rossford indoor sports complex – with added security – and the center's Islamic school meets at Owens Community College.
Islam said surveillance cameras showed Linn, wearing a camouflage hat and sweatshirt, walking through the mosque with a pistol in his left hand. He left a beer can in the women's hijab room, she said, before pouring gasoline on the carpet in the main prayer room and igniting it.
"Had somebody been there, I dread to think about what could have happened because he had a gun. If people had been there, it might have been like the [Oak Creek, Wis.] Sikh temple shooting."