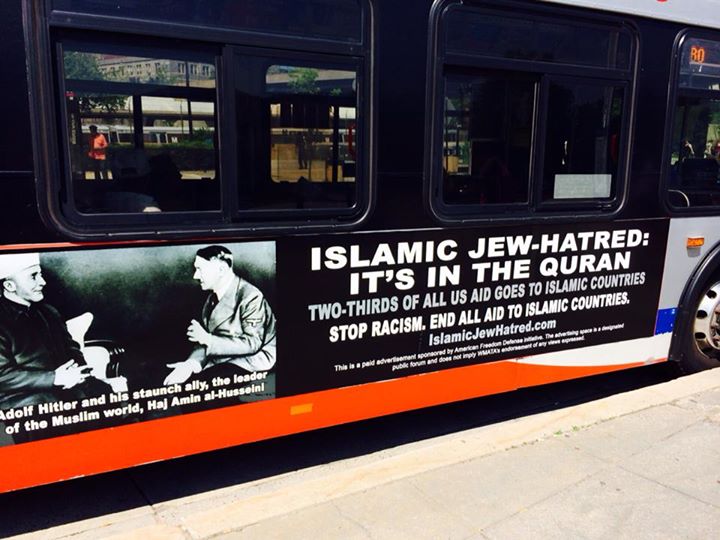 In 2012, anti-Islam blogger Pamela Geller's American Freedom Defense Initiative funded ads throughout the Metro system with a quote from the Quran next to a photo of the burning Twin Towers. Ads that cost Metro $35,000 over a failed effort to block them.
Now she's back with another awful ad, this one claiming that "Islamic jew-hatred" is "in the Quran" as a response to an ad about "Israel's occupation" from the American Muslims for Palestine. From Geller's blog:
The DC Metro transit authority made multiple demands for the substantiation of every claim in our ads before they would accept the ad, and I, of course, happily provided that substantiation. The libelous American Muslims for Palestine antisemitic ad (below) did not have to provide substantiation. The MTA had no problem with their antisemitism. And you cannot provide evidence of a smear and a bigoted lie. But it is proof of the AMP's hate.

Our ads are in response to the vicious Jew-hating ads that American Muslims for Palestine unleashed on Washington, DC Metro buses last month. And might I add, had we not sued and won in NYC and DC for violating our First Amendment rights when they tried to refuse our previous ads, our ads might never have gone up.
Because of the 2012 court ruling stating that Geller's ads are protected speech, a Metro spokesperson said they declined to challenge them this time around. But they do sport the disclaimer: "This is a paid advertisement sponsored by the American Freedom Defense Initiative. Advertising space is a designated public forum and does not imply WMATA's endorsement of any views expressed."
For the uninitiated, here's a description of Geller from the Southern Poverty Law Center, which labeled her Stop Islamization of America foundation a hate group:
Pamela Geller is the anti-Muslim movement's most visible and flamboyant figurehead. She's relentlessly shrill and coarse in her broad-brush denunciations of Islam and makes preposterous claims, such as that President Obama is the "love child" of Malcolm X. She makes no pretense of being learned in Islamic studies, leaving the argumentative heavy lifting to her Stop Islamization of America partner Robert Spencer. Geller has mingled comfortably with European racists and fascists, spoken favorably of South African racists, defended Serbian war criminal Radovan Karadzic and denied the existence of Serbian concentration camps. She has taken a strong pro-Israel stance to the point of being sharply critical of Jewish liberals.
See also "This deeply offensive ad is plastered on public buses in Washington, DC", PolicyMic, 14 May 2014
Update:  See "CAIR counters D.C. anti-Muslim ad with free Qurans", CAIR press release, 15 May 2014