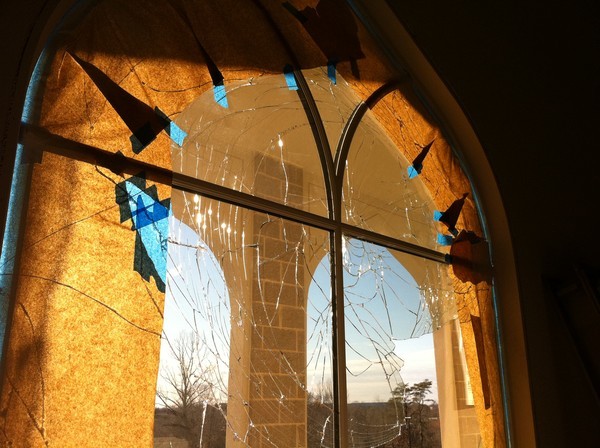 Under the cover of darkness Sunday night, vandals downed alcohol, threw rocks and smashed the windows – along with over a decade of hard work, financial sacrifices and prayers – of a Chantilly mosque.
The Ahmadiyya Muslim community was reeling Monday after learning of the destruction at the construction site, which leaders estimated could cost up to $60,000 to repair. The vandals took out most of the glass windows and doors on the first floor, and even two windows high on the second floor.
"It's kind of devastating to see," said Usman Ghumman, the general secretary. "All the windows are smashed in, like in an insane way. Like somebody went systematically, door to door, to whatever's reachable."
More upsetting than the financial damage, however, is the fact that the mosque's opening will now have to be delayed. The glass was specially-ordered and shaped, and cost between $3,000 to $6,000 per window, Ghumman said. It will take a long time to order and replace it, even if the insurance covers the entire cost in a timely fashion.
When the construction workers – who had been putting extra hours in on the weekends so the mosque could open in late February – left the site around 4:30 p.m. on Sunday afternoon, the site was fine. When the morning crew arrived early Monday, shards of glass were everywhere. The majority of the windows on the first floor were broken. Beer cans and empty alcohol containers were strewn all over – "enough for 20 men," said Tariq Hassan, of EMSI Engineering, the company building the mosque.
Ghumman said the vandals did not steal anything from the mosque, so he believes that they were specifically targeted, due to the amount of effort it would have taken to vandalize the building.
Centerville Patch, 30 January 2012
See also "CAIR asks FBI to probe Va. mosque vandalism as possible hate crime", CAIR press release, 31 January 2012
Update:  See "Police: Vandalism at mosque likely not a hate crime", Chantilly Patch, 31 January 2012