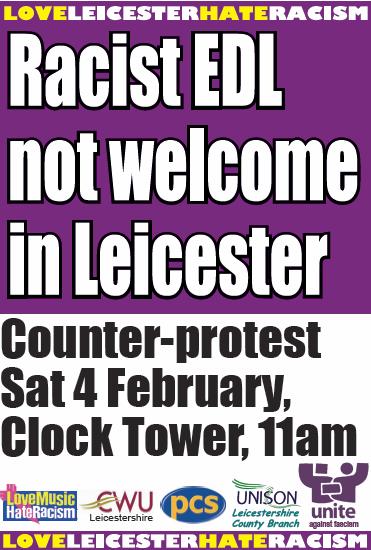 The English Defence League will be allowed to march through Leicester on Saturday – as long as it agrees to a route and conditions laid down by police.
Senior police officers have advised the city council that a march would be easier to contain than a "static protest," which they cannot prevent from taking place even if a march was banned.
The city council will therefore not approach the Home Secretary for a ban on the planned march, unless the EDL refuses to agree with the proposed route and conditions.
A counter demonstration is also planned by opposition group Leicester Unite Against Fascism (LUAF). It too has been offered a set route for a march and its response is also awaited.
The proposed routes begin outside the city centre but would allow both groups to march past landmarks – the Clock Tower, in the EDL's case, while the LUAF march would take in the Town Hall.
Over the past two weeks, some opponents of the EDL have been calling for the council to apply for a ban on the march – as it did in October 2010.
That protest degenerated into violence as people within a cordoned-off area reserved for the EDL threw bricks, bottles, coins and fireworks at police.
Leicester Mercury, 31 January 2012
The EDL are of course well pleased with the decision to allow them to march. Their Facebook announcement of the demo concludes: "in 2010 they banned us! now for the sake of the victims of anti English racism across the UK were back and were coming down the road."
See also "EDL leader Liam Wood threatens to 'smash Leicester up'", EDL News, 30 January 2012