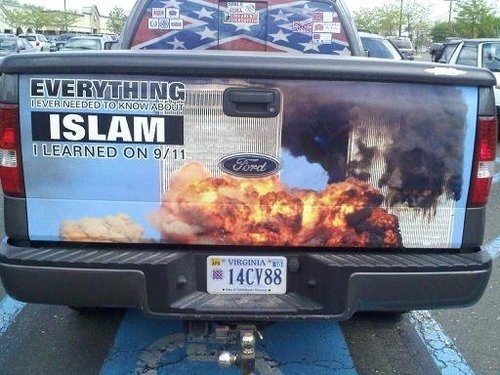 Douglas Story, a Chantilly dump truck driver for the Virginia Department of Transportation, says he wanted to grab people's attention when he paid $224.90 to have a mural of the burning World Trade Center detailed onto the tailgate of his Ford F-150 along with a sticker that reads: "Everything I ever needed to know about Islam I learned on 9/11."
But he got more than he bargained for when a photo of his pickup went viral on the Web last week. Motorists and Muslim groups complained that his Virginia vanity license plate – 14CV88 – was really code for neo-Nazi, white supremacist sentiments. The state Department of Motor Vehicles voted last week to recall Story's plates and force him to buy new ones.
Story says the numbers 14 and 88 on his plate were not references to a white power slogan or "Heil Hitler," as the Council on American-Islamic Relations theorized, but an homage to his favorite NASCAR drivers: Tony Stewart, who drives car No.14, and Dale Earnhardt Jr., who drives No.88.
Story says that his truck has long been decorated with the Confederate battle flag and that he does have "CV" Sons of Confederate Veterans plates, which he obtained after discovering that his great-great-great-grandfather was a second lieutenant with the Alabama Partisan Rangers during the Civil War.
The flag "celebrates my Southern heritage," he said. "And the numbers recognize my favorite drivers in that southernest of sports, NASCAR."
He says he doesn't know who took the photo of his truck, in a handicapped parking spot, that became a viral sensation on the Web. "Probably someone who obviously has a soft spot for Islam," he said, pronouncing the word "I-slam," "because if you pronounce it 'Ih-slahm,' it's not disparaging enough."