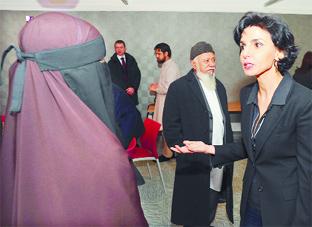 The former French justice minister, Rachida Dati, has condemned the wearing of the burka, saying that it "does not correspond" to European values.
Ms Dati, the first person of North African descent to serve in the French cabinet, is in the UK to visit the Justice Secretary Jack Straw's Blackburn constituency.
In a rare interview, she told Today programme reporter Zubeida Malik that "it's important to remind what helps citizens live together and have a common destiny and living together and having a common destiny means having principles and values in common.
"And it's true that the burka does not correspond neither to our values nor to our principles whether French or British and not even European. So it is important to say no to this expression that is not a religious expression."
Ms Dati rejected suggestions that banning the burka and other face veils would make them more popular. "We have to remember that often women who wear the burka are either doing it out of ignorance or others are motivated by an activism linked to the creation of a new identity," she said.
"And to those for whom it represents the expression of an identity, it is important to say that in our countries there can't be any confrontation of identities. There is one single identity based upon common values and principles shared by our countries."
See also "French politician defends veil ban call on trip to Blackburn", Lancashire Telegraph, 19 February 2010