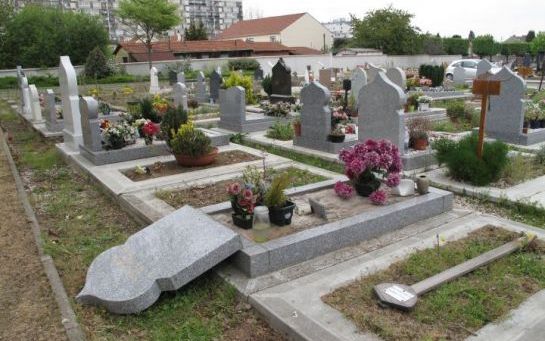 The graves of a cemetery in the Val-de-Marne suburb of the French capital were found destroyed on Sunday. It is reported that the marble headstones were broken and ornaments thrown about.
President of the Observatory against Islamophobia Abdellah Zekri said, "I condemn the cowardice of these individuals who attack cemeteries, and dead people. We demand that the authorities step in, in the midst of this unhealthy environment."
Police have launched an investigation into the incident, which is one of several incidents of anti-Muslim vandalism that has hit France.
Zekri said that there had been already 50 reported cases of Islamophobic incidents in 2013, making it a 25-percent increase in the first half of the year, compared to 40 for the first six months of 2012.
On April 14, a building site for a mosque in the town of Meaux, near Paris, was vandalized with Nazi graffiti spraying on the building and a pig's head left on the premises – an attack French authorities branded as "Islamophobic" and "racist." Another similar attack occurred in early February, when racist insults were spray-painted on a mosque in the town of Ozoir-la-Ferriere, just east of Paris.
At that time, Sami Debah, the president of the Collective Against Islamophobia in France (CCIF), said he was concerned about casual, increasingly accepted Islamophobia in the French society. "It's concerning to see views in France in 2013 that are the same as those that were held in the Middle Ages," Debah said.
France's National Consultative Commission on Human Rights revealed on March 21 that racist acts and threats in the country rose by 23 percent in 2012, with over 1,500 reported cases.
The commission also singled out French politicians and the internet for contributing to the legitimization of racist language.
"We are witnessing a dangerous trivialization of racist rhetoric," the commission stated, adding, "The internet is contributing to this trivialization but it has also become part of the political discourse for certain themes such as immigration, religion and secularism."
See also Le Parisien, 28 January 2013