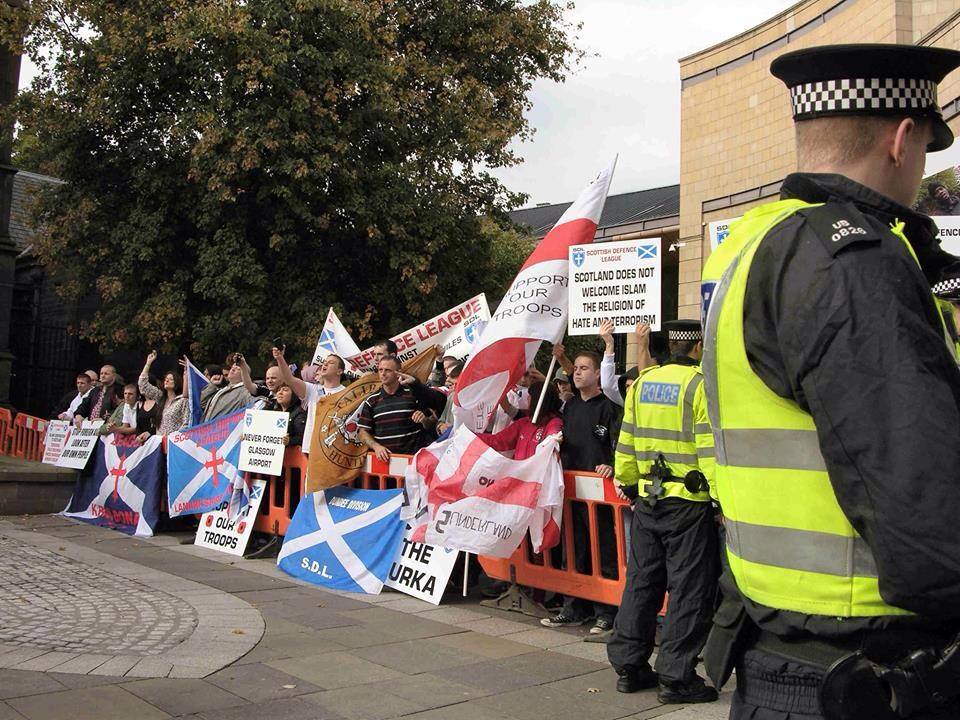 Anti-fascist protesters claim the police were too soft in dealing with an extreme right-wing protest in the centre of Dundee, and have made a formal complaint.
The Unite Against Fascism (UAF) alliance has written to Police Scotland Chief Constable Sir Stephen House, Justice Secretary Kenny MacAskill and Dundee City Council chief executive David Dorward about events surrounding the visit of the Scottish Defence League (SDL) on Saturday October 5.
The UAF alleges that officers took no action to deal with a double assault by right-wing demonstrators and fraternised with the extremists by lending them their police hats for photographs. Police also permitted them to drink alcohol in public, contrary to local byelaws, and display and shout offensive slogans, the UAF claims.
Police Scotland mobilised a helicopter, four officers on horseback and up to 100 others on foot to control the protest by the SDL – bolstered by supporters from the English Defence League (EDL) – and the counter-protest by the assembly of anti-fascist and anti-racist groups.
The 50 right-wingers, who were mostly from outside Dundee, demonstrated outside the City Churches before being herded back on to their buses and away from the city, to the echo of calls from their four times more numerous opponents.
Police prevented any physical confrontation between the two groups and there were no arrests at the scene, but the UAF is not pleased.
Spokesman Peter Allison said: "We feel that the peaceful protesters were badly let down by Police Scotland, particularly when SDL and EDL members, despite their police escort, were able to decant from their bus and assault two members of the public before being photographed fraternising with police by posing for photographs wearing police hats.
"We would like answers from Police Scotland as to why a violent gang of racists who, by their own leaders' admission, is extremist and containing Nazi elements, were allowed to openly consume alcohol and run amok in Dundee city centre assaulting members of the public, despite a hugely expensive policing operation."
Despite a memorandum of understanding, it said police allowed the SDL to display offensive banners and give Nazi salutes. The UAF wants Sir Stephen House to investigate and take action against any staff found to have acted inappropriately. It also wants to know the cost of the policing operation and whether the police provided transport for the SDL on the day.
A Police Scotland spokesman said: "We are in receipt of a letter of complaint from Unite Against Fascism regarding the police response to a protest in Dundee on October 5. The letter will be dealt with as part of our complaints procedure and a response will be sent in due course."
A Scottish Government spokeswoman for Mr MacAskill said: "This is a matter for Police Scotland to consider."