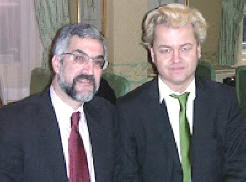 Dutch politician Geert Wilders has once again become the subject of controversy after he led supporters in an anti-Moroccan chant during a campaign rally last month. Despite the mass condemnation he has received for the remarks, Wilders' anti-Muslim counterparts in the United States are standing by his draconian approach to immigration.
While at the rally in The Hague, Wilders, who heads the Party for Freedom (PVV), asked the crowd: "Do you want in this city more or fewer Moroccans?" to which they chanted, "Fewer! Fewer! Fewer!"
"We'll take care of that," he responded with a wry smile.
Wilders later defended his comments and outlined his party's plans to uphold his promise by "limiting immigration from Islamic countries, including Morocco" and promoting "re-emigration." Wilders also plans on "deporting criminal Moroccans by revoking their Dutch passports" – as well as their dual-citizenship – and "sending them back to their country of their nationality."
However, many PVV members believe Wilders has gone too far with his latest spectacle, and has led to a crisis within its ranks. Many have chosen to resign and disassociate themselves from the party, including Laurence Stassen who represents PVV in the European Parliament. "I deeply regret having to take this decision, but staying in my function was not an option after these comments," she said in a statement.
Despite the mass exodus from his own party, anti-Muslim activists in the United States continue to uphold Wilders as a symbol of resistance against the devastation they believe will come as a result of an increased Muslim population:
Longtime anti-Muslim activist Daniel Pipes said although he didn't agree with Wilders' tactics, he sympathized with his goal of curbing immigration. "It is entirely understandable that the indigenous peoples of a country feel stress when large numbers of immigrants from an alien civilization, more than a few of them hostile, move in," he said on his website.
Frank Gaffney took to his radio show to say Wilders is representing the "free world." During the show, Gaffney described PVV's policy as being a subscript for "describing the affliction that immigration, some of it illegal, has represented for a country like the Netherlands."
Islamphobic columnist Diana West joined Gaffney on his show and took issue with the negative media coverage Wilders has received. She implied she saw nothing wrong with his comments because "Moroccans top the charts in criminality" as well as in "social dependence." In another column at the Columbia Daily Herald, West defended Wilders anti-immigrant stance by posing the question: "Is it 'racism' to oppose the demographic obliteration of a nation clearly underway?"
David Horowitz Freedom Center fellow Bruce Bawer also defended Wilders at FrontPage Magazine. He said he doesn't see him as a "bigot," but instead as "the real thing: a brave, selfless man determined to steer the ship of state through turbulent waters safely into port." He added: "The Dutch would be fools to throw him overboard."
Wilders' latest diatribe is rooted in an anti-immigrant and anti-Muslim platform that has made him one of the most prominent figures of the global Islamophobia movement. He has previously advocated against the construction of any new mosques in the Netherlands, claiming they are a "symbol of an ideology of hatred, violence and oppression." He has also equated the Qur'an to Mein Kampf. Wilders spent the summer forming a new political alliance with France's far-Right National Front party leader, Marine Le Pen. Their goal is to take on the European Parliament this year. Both parties blame immigration and multiculturalism for Europe's economic malaise and supposed loss of identity.
Even at a time when Wilders' own party is trying to distance themselves from his extreme rhetoric, those in the broader anti-Muslim movement continue to show their unwavering support for him.
Via Loonwatch