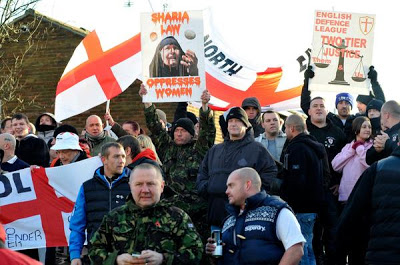 Two men were arrested yesterday during a protest over a planned Muslim education centre in the North.
Police estimate that around 200 members of the English Defence League turned out to the protest in the former pit village of Shotton Colliery, County Durham.
The arrests were made for breach of bail conditions, a spokesperson for Durham Police said.
Superintendent Helen McMillan said: "Although Durham Constabulary respects the right for people to take part in peaceful protests, we will ensure that law and order is maintained at all times.
"We had effective resources in place to ensure the event proceeded peacefully for the safety of everyone," she said. "The men are currently being held in a local police station where they are helping police with enquiries."
The protest took place between 2pm and 4pm and was supervised by officers from across the force. An onlooker said the protest was "well behaved but not completely peaceful", adding that fireworks were thrown down the street.
He said at one stage a woman emerged from a house near the village green, where the EDL members were based, to confront the protesters.
Businessman Kaiser Choudry applied for permission earlier this year to turn the Melrose Arms, a disused pub in Front Street, into a centre for the local Muslim community.
Durham County Council received a 102-signature petition and 13 letters against the conversion. The majority of the objections were about potential parking and traffic problems rather than the planned purpose of the building.
Mr Choudry had previously made an application to turn the old pub into a prayer hall, but this was withdrawn.
The businessman said earlier this year: "I have been in the village for 25 years and the community has been supporting me. I want to give something back to the community."
---
The EDL have hailed the Shotton Colliery protest as proof that their organisation is not on its death bed. You'll see that the EDL were pleased to welcome a contingent from the North East Infidels on the demonstration. Only months ago the EDL were denouncing the North East Infidels (entirely accurately) as Nazis, but now apparently the NEI have been transformed into "great patriots".
Update:  See also "Anti-Muslim protest against Islamic centre plans for former pub", Sunderland Echo, 3 December 2012