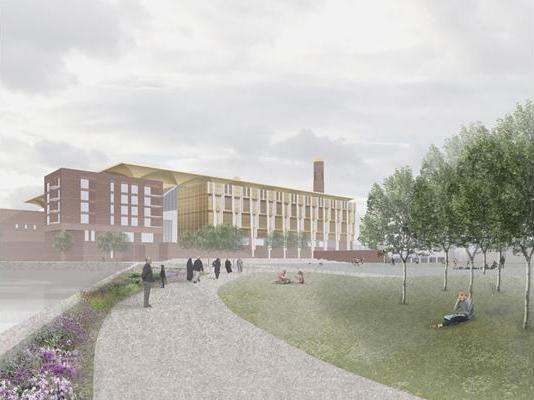 Up to 15,000 militant Islamists are set to descend on east London this week to pressure town hall chiefs into allowing a 9,000 capacity mega-mosque.
Supporters of Islamist sect Tablighi Jamaat are irate after Newham Council rejected plans for the group's new HQ. The sect, which has been linked to shoe bomber Richard Reid and 7/7 terrorists Mohammed Siddique Khan and Shehzad Tanweer, owns the Abbey Mills site near the Olympic Park in West Ham.
In a YouTube video, extremist cleric Sheikh Haitham al-Haddad urged Muslims to come together to support what should be a "big Islamic symbol in the heart of London".
Al-Haddad, who once declared Jewish people were descended from "apes and pigs", told supporters: "You know the planning permission for this masjid [mosque] has been rejected. However, the decision will be reviewed on Wednesday. At 5pm the mosque's backers want at least 15,000 to gather there. If they don't receive that level they will not be able to persuade the council they have enough support."
Critics said his comments prove those behind the mosque plan have extremist tendencies.
Last night Alan Craig, campaign director of MegaMosque No Thanks and a former Newham councillor, said: "Sheikh Haitham al-Haddad wants all Muslims to rally in support of the mega-mosque because he brags it will be 'a big Islamic symbol in the heart of London'. His call illustrates the hostile and extremist domination closely associated with the mega-mosque project."
Daily Star Sunday, 2 December 2012
---
What Haitham al-Haddad's intervention in fact shows is that there is widespread support for the cause of the Newham markaz across the Muslim community, including among people like himself who have no links at all to Tablighi Jamaat.
As you can see from the video, Haitham al-Haddad makes no call for "militant Islamists" to "descend on east London". He appeals to the Muslim community as a whole, including families with children, to join a "civilised gathering" outside the town hall where a committee meeting will consider the planning application for the proposed development (so far it is only officers who have recommended rejection), with the aim of showing councillors the strength of feeling on the issue.
Alan Craig's outraged objection to "a big Islamic symbol in the heart of London" tells you exactly where that reactionary bigot is coming from. You don't hear Craig objecting to St Paul's or Westminster cathedrals on the basis that they are big Protestant or Catholic symbols in the heart of London. According to him, Christians are fully entitled to large places of worship in the capital but the same religious freedom should be denied to the Muslim community.
The Leveson report condemned "discriminatory, sensational or unbalanced reporting" about Muslims and other minorities among sections of the press. Some of the most powerful testimony to the inquiry which led Leveson to this conclusion was provided by former Star journalist Richard Peppiatt. This latest attack on the Newham so-called "mega-mosque" shows how little has changed, either at the Daily Star or its Sunday sister paper.