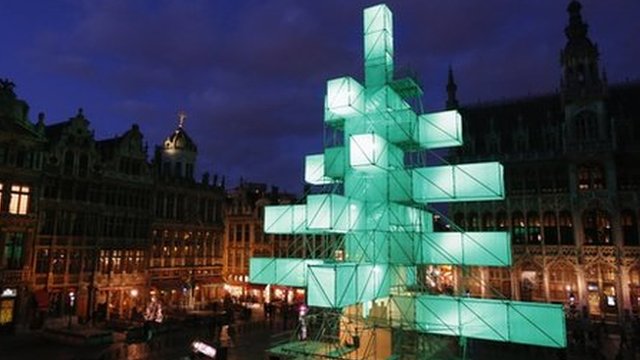 Thousands of people have signed a petition against an abstract light installation replacing the traditional Christmas tree in Brussels city centre.
More than 11,000 signatures have been gathered in the online petition and a Facebook page attacking the new feature has been launched. Critics accuse officials of opting for the installation for fear of offending non-Christians, especially Muslims. But the mayor's office said it was part of a theme this year of "light".
Traditionally, a 20m (65ft) pine tree taken from the forests of the Ardennes has adorned the city's central square, the Grand Place. This year, it has been replaced with a 25m (82ft) construction, though smaller real Christmas trees still decorate the square, a spokesman at the mayor's office said.
The city's website said the new "tree" was one of five "light" installations around the Grand Place this year, offering visitors the chance to climb to the top and enjoy "beautiful views" of the city.
Tourism councillor Philippe Close at the mayor's office said the aim was to show off the "avant-garde character" of Brussels by blending the modern and the traditional, to produce something new and different.
Erik Maxwell, from Brussels, told BBC News: "We think the tree has been put up for cultural reasons. A tree is for Christmas and Christians but now there are a lot of Muslims here in Brussels. So to avoid discussions they have just replaced a tree with a couple of cubes! I am more traditional, I prefer the usual tree. That's better for the Belgian people."
Parts of the Belgian press have been keen to suggest that the tree is an example of "political correctness", designed to be more appealing to non-Christian religious groups than a traditional fir tree, our correspondent says. However it seems likely that the media storm is influencing public opinion rather than reflecting it.
"What we want is just to modernise the pleasure of winter, of this Christmas market and all the image of Brussels," said Councillor Philippe Close. "The Christmas tree is not a religious symbol and actually lots of Muslims have a Christmas tree at home. For people who want a traditional religious symbol, we have the nativity scene here in the square. For people who want modernity, we have this new tree."
Semsettin Ugurlu, chairman of the Belgian Muslim Executive, representing the Muslim community in Belgium, said his organisation did not mind any kind of Christmas tree. "We know we are living in a country with a Christian culture, we take no offence over a traditional Christmas tree," he said.