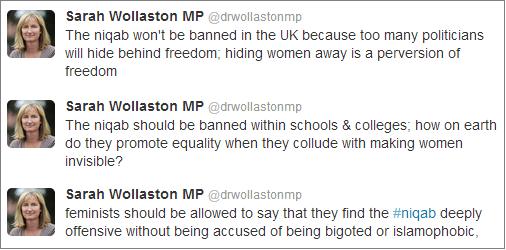 A Conservative MP has sparked a Twitter backlash after she said Islamic veils should be banned in all schools – suggesting they were "deeply offensive". Dr Sarah Wollaston, MP for Totnes in Devon, said the niqab was "making women invisible" in a string of online comments.
She wrote on Twitter: "The niqab should be banned within schools & colleges; how on earth do they promote equality when they collude with making women invisible?" Moments later, the MP posted another message saying: "A general ban on the niqab simply won't happen in the UK but that doesn't mean that it should be endorsed by schools or courts."
But within seconds she had sparked a backlash from dozens of online followers who accused her of "missing the point". One woman replied: "How about asking a woman who wears niqab what she thinks about her freedom? Or does her opinion does not matter?"
Muslim commentator Mohammed Ansar said that Dr Wollaston's Twitter feed had attracted what he thought were bigoted and "Islamaphobic" comments in his opinion. He added: "Do you accept and support the right of a woman to dress as she wishes?"
Western Morning News, 16 September 2013
See "Ban 'offensive' full-face veils in ALL schools because 'they make women invisible,' urges Tory MP", Daily Mail, 16 September 2013
See also Wollaston's comment piece in the Daily Telegraph ("Women should be clear that the burka is a symbol not of liberation but of repression and segregation … We must be bold in resisting those who would allow the niqab to masquerade as personal freedom … Sometimes you have to force people to be equal").
Update:  Cf. Zakia Uddin, "If we want a debate on the veil, why not listen to Muslim women first?", Rationalist Association, 16 September 2013