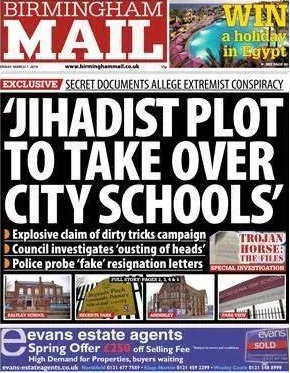 Tristram Hunt, the shadow education secretary, will warn on Saturday that "the pursuit of a divisive religious extremism" – as shown in an alleged conspiracy to take over schools in Birmingham – threatens to undermine Britain's modern multicultural society.
Hunt's remarks to the annual conference of the NASUWT teaching union in Birmingham follow the uncovering of a dossier named Operation Trojan Horse, claiming to reveal a plot to overthrow teachers and governors insecular state schools in the city and run them on strict Islamic principles.
"Across the country, we can all point to many successful, collaborative, pluralist faith schools working with children of particular denominations and of no faith at all," Hunt is to say. "But we also need to be clear about the duties which a state-funded school is expected to fulfil. We cannot have narrow, religious motives which seek to divide and isolate dictating state schooling. We cannot have headteachers forced out; teachers undermined; curricula re-written; and cultural or gender-based segregation."
Hunt is to say that schools should unite "a modern, multicultural city like this one". "Anything that undermines that mission needs to be dealt with thoroughly. And so I welcome Birmingham city council's investigation of the so-called Trojan Horse conspiracy." The episode also illustrated "the inability of the Department for Education to manage 5,000 schools from a desk in Whitehall," Hunt claimed.
Although some have claimed the Trojan Horse document is fake, Birmingham council has launched an investigation into 25 schools, while separate probes are being conducted by Ofsted and the DfE.
---
The Trojan Horse document has in fact been exposed as an obvious forgery.
The resulting hysteria has been condemned by local faith leaders, school governors and community activists. Birmingham Council's chief executive has stated that claims of a conspiracy to take over the city's schools are without foundation. Michael Gove's provocative decision to appoint the former head of the Met's counter-terrorism unit to lead an investigation into the supposed Muslim takeover plot has been criticised by the chief constable of West Midlands Police and by the leader of Birmingham council.
Here, you might have thought, was an opportunity for Labour's education spokesperson to call for a reasoned discussion, reject scaremongering journalism and denounce Gove's irresponsible actions. Instead, it would appear that Tristram Hunt has decided to stoke up the Islamophobic hysteria. But then, it would be futile to expect a stand on principle from a man who happily scabs on strikes.