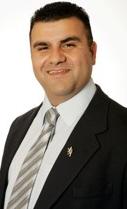 A local councillor has been suspended for posting a comment on Facebook comparing Muslim children wearing burkas to bin bags.
Chris Joannides also messaged friends during meetings with his constituents asking for updates on football scores and complaining about missing his favourite television programmes.
The Conservative councillor for Enfield, in north London, has denied being Islamophobic and defended his comments as "blokeish banter".
Mr Joannides posted a photo showing a woman and child dressed in burkas standing next to two bin bags. He wrote underneath: "I saw her standing there and I told her she had three beautiful children. She didn't have to get all p***ed off and threaten me. It was an honest mistake!"
"I am not, never have been and never will be Islamophobic," he said this week. "The comments I made were against Islamic fundamentalism and terrorism including the demonisation of women, something the whole world is concerned about in the light of terrorist attacks on the West since September 11."
---
In other words, Joannides is arguing that Muslim women who wear the niqab are associated with "Islamic fundamentalism and terrorism". Does he really think that makes things better?
Update:   See "Enfield Conservative councillor Chris Joannides kicked out of party for 'anti-Islamic' Facebook posts", Enfield Independent, 13 February 2013