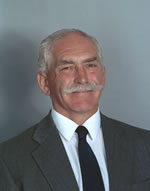 A Tory councillor felt he had e-mailed a "jolly good joke" to all his council colleagues – but he now faces disciplinary action over claims it was racist and sexist.
Chris Walker, who represents Eastwood Park ward, has caused quite a storm among his peers over the pictures of naked women with anti-Islamic text.
The e-mail said Islamic men would have to commit suicide if they saw a woman, other than their wife, naked, and that all British women should walk the streets naked on Sunday afternoons to weed out terrorists.
It was accompanied by a number of pictures of naked women, and ended with the words Land of Hope and Glory and a picture of the Union Flag.
Funeral director Mr Walker, who is known in the council for his forthright comments, said: "I sent it in good faith, because it just seemed a jolly good joke to me."