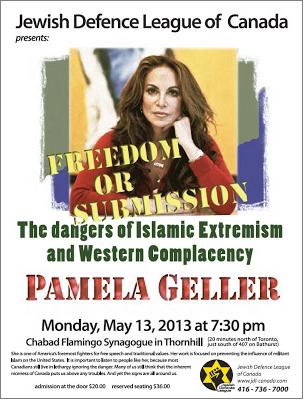 York Regional Police threatened to remove a rabbi as one of the force's chaplains if he hosted a controversial anti-Islamist speaker at his Thornhill synagogue.
Insp. Ricky Veerappan, of the force's diversity, equity and inclusion bureau, confirmed he and officers from the service's hate crimes unit met with Rabbi Mendel Kaplan of the Chabad Flamingo Synagogue on Tuesday.
They expressed concern about an upcoming talk to be given by Pamela Geller, a vocal critic of radical Islam. She protested past plans to build a mosque near Ground Zero in New York City, and has posted anti-Jihad messages in that city's subway system.
Subsequent to his meeting with police, Kaplan cancelled Geller's May 13 talk, which was sponsored by the Jewish Defence League (JDL) – a hard-line advocacy group that had rented space in Kaplan's synagogue for the event.
"I think the police are turning a blind eye to who they should be keeping an eye on," said the JDL's Meir Weinstein, referring to radical Islamists. Weinstein said another location will be chosen for Geller's appearance.
Veerappan said he told Kaplan that Geller's speech "would not be endorsed by York Regional Police" and that the rabbi's role as a force chaplain would be thrown into question if he were to permit the event.
"If he did (host Geller), then we'd have to reassess our relationship with (Kaplan)," Veerappan said. "We serve the needs of the entire community. Some of the stuff that Ms. Geller speaks about runs contrary to the values of York Regional Police and the work we do in engaging our communities."
An outraged Geller has denounced the decision as "yet another instance of the Islamic supremacist/leftist war on free speech".
Update:  The National Post reports that the appalling Salim Mansur has ralled to Geller's defence. "Are we turning into one of those Third World countries where a police chief can pick up the phone and tell a free institution, in this case a religious institution, that you can not do this and you can do this?" he is quoted as saying. "I'm speaking here as a Muslim."
Mansur, you may remember, has called for a ban on further migrants from Muslim countries, on the grounds that their "values, ideologies, politics and culture is completely incompatible with the values of Canada as a liberal democracy". Yet this man is regularly quoted by the Canadian media as if he was a legitimate voice from the Muslim community.