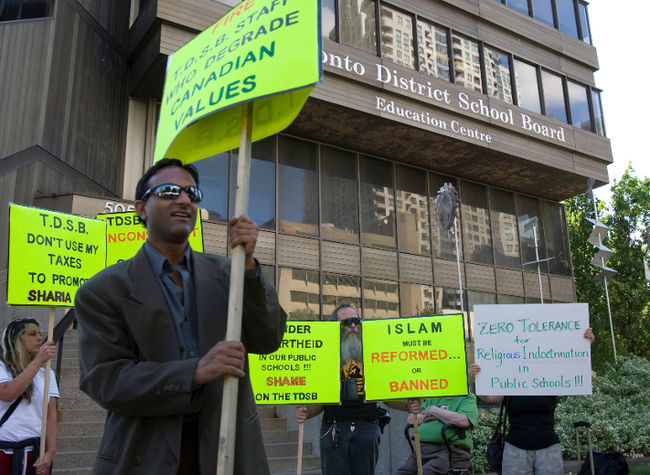 They waved signs that warned of "creeping jihad" and proclaimed "Islam must be reformed or banned". They chanted – "No Islam in our schools"; "No Mohamed in our schools"; "No Sharia law in our country".
About 100 protesters, many from groups such as the Jewish Defense League, the Christian Heritage Party and Canadian Hindu Advocacy, came to the Toronto District School Board Monday evening to protest its approval of formal Friday prayer services for Muslim students at Valley Park Middle School.
Standing at the back of the crowds, far from the megaphone-wielding speakers, York University students Mariam Hamaoui and Sarah Zubaira had their own signs espousing their right to pray in school. They came to thank the school board for providing a place for the Valley Park students to pray. Previously those students had left their school to attend prayers at a nearby mosque on Fridays.
Bringing an imam into the school was a means of preventing some of the approximately 300 Muslim students from failing to return to classes after those prayers, said school board director Chris Spence. It also meant they don't have to cross a busy street. Valley Park has been holding the prayers in the cafeteria for three years and there have been no complaints within the school community of about 1,200, he said.
Hamaoui, 18, said she had to go to the basement to pray when she attended Etobicoke Collegiate Institute because "there was no other place". "I think people should be open minded. I don't see the problem to go pray. Praying is helping everybody," she told reporters and the protesters who aggressively confronted her. "Universities let anybody pray. I don't see the problem with having middle schools," she told one woman.
"It's our constitutional right," said Zubaira, who wore a hijab for the first time on Monday.
Outside on the board steps, Toronto grandmother Frances Flynt said she came to the protest to "oppose having a mosque in a school". She said her grandchildren are only permitted to sing secular songs like Jingle Bells at Christmas. "They're not allowed to sing hymns in school," she said.
Artist and atheist Ryan Browne came alone to the protest. "I felt so strongly about it I decided I'd come down and do something about it," he said, adding that he fears "our public institutions can be apprehended by certain interest groups".
"I work for the TDSB, I try to teach in an environment of equity. I just find this kind of rhetoric intolerant," said Omar Qayum, a Muslim math teacher at Agincourt Collegiate. For the past five years, he says, he's been taking time on Fridays to pray with his students and there have been no problems.
"We have a Catholic school system. It is publicly funded. My tax dollars go to Catholic schools. I don't have a problem so long as other religious groups have that same right but that's not the case … When they talk about gender segregation, we have Catholic schools that are all girls and all boys. It's just that Muslims are an easy target. We are a minority. Islamophobia is an industry these days," said Qayum.
See also Toronto Sun, 25 July 2011