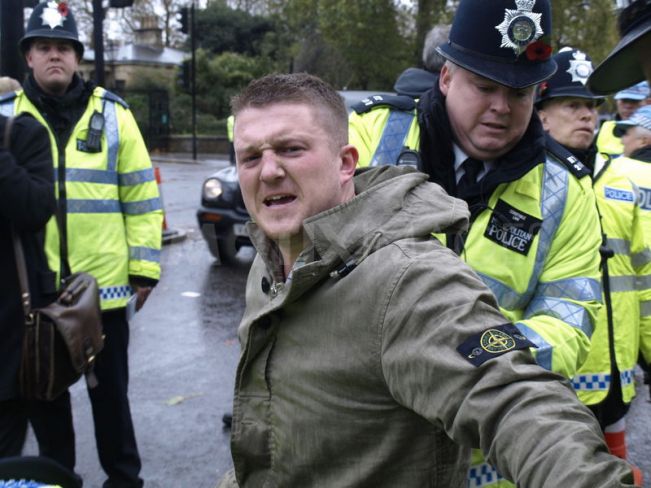 The founder of the English Defence League has been convicted of leading a street brawl with 100 football fans.
Stephen Lennon, 28, shouted "EDL till I die" and encouraged fellow Luton Town supporters when they clashed in the town with Newport County fans on 24 August last year.
Lennon, a father of three from Luton, was sentenced to a 12-month community rehabilitation order, 150 hours of unpaid work and given a three-year football banning order. He was also ordered to pay £650 in costs. He was charged with using threatening, abusive or insulting behaviour and accused of leading Luton's hooligans into a fight.
He denied the charge but was convicted after a trial at Luton and South Bedfordshire magistrates court. Outside court he said he was being persecuted for his rightwing beliefs. "I am being done for what I am saying rather than what I am doing," he said. "In the last 12 months I've been banned from protesting, going to the football and my assets have been frozen. It is a police state."
Lennon was at the front of a large group of fans and was seen provoking opposition fans by gesturing and swearing at them. A terrifying scene unfolded with masked fans fighting, launching bottles and other missiles including a car roof rack.
A car windscreen was smashed during the battle as only seven police officers struggled to separate the sides. PC Robert Field described the scene as "incredibly intimidating" to members of the public and said it was "clearly going to get out of control".
Lennon, who has previous convictions for assault, possession of cocaine and disorderly behaviour, shook his head upon hearing the verdict.