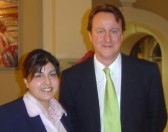 The creation of a group of young Muslims to advise ministers on extremism and discrimination has been condemned as divisive and patronising by a leading Muslim peer.
Baroness Warsi, the shadow minister for community cohesion, claimed the move was another example of Labour's discredited policy of state multiculturalism and would just drive communities in Britain further apart. She pointed out that Muslims face the same issues as young people from other backgrounds, and said it is wrong to chose advisory groups purely on the basis of faith.
Lady Warsi said: "This is another example of the Government engaging with the British Muslim communities on the basis purely of their faith. There are many issues that face young people: drugs, unemployment and housing, to name but a few. To select a group of 22 young people, however talented they may be, to advise the government on 'Muslim issues' is patronising and deeply concerning.
"When will the Government learn that the Muslim community is not a homogenous block, and the issues its young people face are predominantly the same issues that all young people in this country face, whatever their background, race, or religion? Actions such as this are a continuation of the Government's policy of state multiculturalism, which creates a more divided Britain."
Daily Telegraph, 8 October 2008
---
Will the Tory mayor of London be joining his party's escalating campaign against multiculturalism, we wonder? After all, Boris Johnson's director of culture, Munira Mirza, takes the same line as Baroness Warsi, namely that the formation of a specifically Muslim organisation "reinforces tribalism and division". How does this fit with the mayor's declared commitment to continue supporting Eid in the Square, jointly organised with the Muslim Council of Britain?