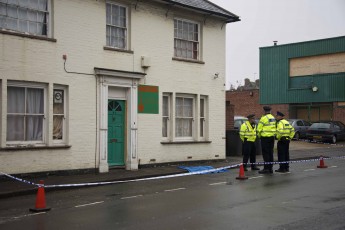 A Thatcham man was today (Weds) sentenced to three months' imprisonment after admitting to one count of racially aggravated harassment and a section 4 public order offence at Reading Magistrates' Court.
Rory Rowbottom, aged 21 of Poffley Place, pleaded guilty to the offences in connection with an incident in Newbury in October where a pig's head was discovered outside a mosque in Pound Street (pictured).
Deputy local police commander for the Newbury area, Ch Insp Lindsey Finch, said: "I welcome the outcome of the court case today, and hope that it serves as a reminder that racial harassment of any kind is totally unacceptable in today's society and will be dealt with as a priority by both the police and the courts. This kind of harassment will not be tolerated by the police, or by the community as a whole.
"It was heartening to see the response from other communities in West Berkshire who were equally distressed and horrified that this could happen to Muslims in Newbury. This was a particularly distressing crime, targeting a very respectful and close community in West Berkshire. The police response when alerted to this incident was swift and decisive, and a detailed and comprehensive investigation then followed.
"I also take this opportunity to remind people that they can continue to have confidence in reporting racial incidents to the police and that they will be investigated fully and respectfully."
A representative of the Newbury Mosque Committee, Lucky Nizami, said: "The mosque has been in Newbury for a number of years and this incident shocked members of the mosque because Newbury is such a close and tight-knit town. We cannot understand why someone would want to do such a thing and it has saddened many, many people. However the mosque committee is very grateful for the support and kindness shown by a large number of people from the Newbury area.
"Muslims in West Berkshire are a very respectful community who do not interfere in matters of faith for other local communities. The Muslim community is very tolerant of others' beliefs, but hold several things very close to them – those are the Koran, the Prophet and the Mosque. It was therefore beyond the understanding of the community why anyone would wish to insult them by directly attacking one of those – in this case, the Mosque.
"Police responded so effectively and respectfully to this incident, and have conducted a very thorough and wide reaching investigation. This positive and supportive response has further increased confidence that the police will continue to respond robustly if incidents are reported to them.
"This is also evident in the way that the community left all aspects of the investigation in the hands of the police and trusted that the outcome would be the right one. We are really pleased that the man who was responsible has appeared before the court and we accept the decision of the court."
Newbury Today, 23 January 2013
See also "EDLer Rory Rowbottom jailed for mosque pig's head", EDL News, 23 January 2013
---
After he appeared in court last month Rowbottom took to Facebook to express his displeasure at press reports of the case:

There would seem to be solid grounds for a further charge against Rowbottom, under Section 127(1) of the Communications Act 2003, which makes it an offence to send over a public electronic communications network a message that is "grossly offensive or of an indecent, obscene or menacing character". The offence carries a possible 6-month prison sentence.