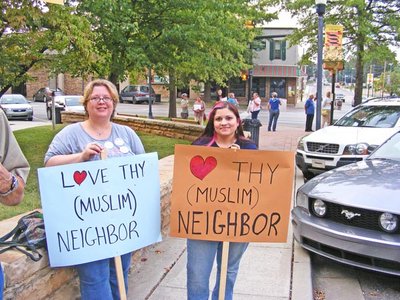 COOKEVILLE — A crowd of more than 100 peaceful protestors gathered outside the courthouse last night with signs saying "We love Muslims" and "All religions believe in justice," among many others, showing their opposition to the Tennessee Freedom Coalition's showing of what they call a highly controversial film about the Islamic religion.
"A Warning to America," by Geert Wilders, a Dutch politician who has spoken out against Islam, was shown in the county commission chambers last night. DVDs of the film were also available for purchase at the event.
"We're here to voice another side," Pat Handlson, minister of Cookeville First Presbyterian Church and event organizer said. "I think it's sad there's been such negativity surrounding the Murfreesboro mosque."
Wilders, according to Rachel Welch, organizer of the film showing and vice-chair of the Putnam County Republican Party, has been under persecution in his country for hate speech and speaking out against Shariah law. "This is certainly not a hate film," Welch said. "It's about facts and Islam being a political ideology shrouded in a religion."
Very few confrontations between the two sides were reported and both Welch and Handlson were pleased with how peaceful it was.
"I just wanted everyone here to be a witness to this event," Handlson continued. "To be a witness to love your God and love your neighbor. We all can co-exist." Handlson is concerned about this film being shown locally because Cookeville is home to a large group of Saudi Muslims.
Herald-Citizen, 20 August 2011
See also Cookeville Times, 20 August 2011