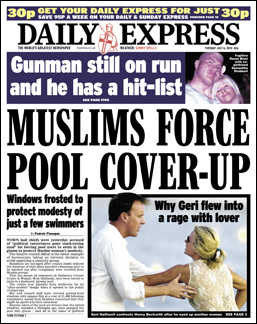 Town hall chiefs were yesterday accused of "political correctness gone stark-raving mad" for forcing pool users to swim in the gloom to protect Muslim women's modesty. The bizarre council diktat is the latest example of bureaucrats taking an extreme decision to avoid upsetting a minority group.
Residents are outraged after council chiefs ordered the windows of their glass-panelled swimming pool to be blacked out after complaints were received from Muslim groups. That has meant all swimmers at Darlaston Leisure Centre in Walsall, West Midlands, have been forced to swim in a darkened, gloomy pool.
The centre won plaudits from architects for its "ultra-modern" design when it opened to the public 10 years ago. But now council staff have covered ground-level ­windows with opaque film at a cost of £1,400 following complaints, mainly from Muslims concerned that they might be spotted in their swimwear.
Regular users of the pool are furious that the tinted windows, installed a fortnight ago, have plunged the pool into gloom – and all in the name of political correctness.
Jean Merchant, from Wolverhampton, said: "Regular swimmers should boycott the pool for as long as the film is in place. It seems they are not bothered about what we find offensive, as long as the Muslim community is kept happy."
Retired building surveyor John Ewart, 63, from Walsall, said: "I cannot believe this council has agreed to something so loony. The whole thing smacks of political correctness gone stark raving mad."
---
See also the Daily Star, the Sun, the Daily Mirror and BBC News. The last two reports do at least avoid quoting the bigoted comments made by hostile pool users, and the Mirror even goes so far as to concede that the complaints that led to the change were not exclusively from Muslims.
A reader has drawn our attention to the original story in a local paper, the Express & Star, which he says "keeps putting stories in about Muslims", resulting in "people leaving Islamaphobic comments and generally inciting hatred".
Here are some of the comments that follow the Express & Star report:
"stop using the baths see if the muslim community would like to fund it for themselves i can see a better idea sack the people who agreed to this decision intergration my backside."
"As per usual, always bowing down to the so called minorites."
"What an absolute disgrace, whatever next perhaps separate Muslim swimming sessions, buses, public benches,shopping days etc where will it stop."
"Why are we being made to feel like this isn't our own country anymore?"
"here we go again muslim people get there way again if we went to there country and done that what would happen it stinks and country is in a mess."
"Cannot believe this country fought in two world wars to stop invaders dictating/telling us what to do. If they dont like or accept our ways or traditions why do keep coming here?"
"You mean they CAN take the Burka off WHEN it suits them?"
"They say they are wanting integration … which way does this work? They integrate with us or are we supposed to integrate into their laws where women are treated like doormats???"
"How much more of this do we have to put up with – one rule for us and one for muslims!!!"
Update:  See also "Non-story about local pool forces journalism black out", Tabloid Watch, 6 July 2010
A statement by Walsall Council in response to what they describe as "inaccurate and misleading media coverage" can be consulted here.