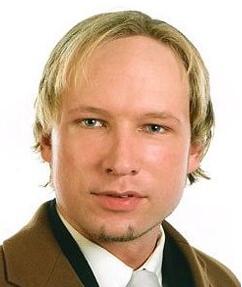 As theories abounded early Saturday as to the group or person behind the deadly twin attacks in Norway a day earlier, investigators began to face the fact that they were likely dealing with a home-grown terrorist.
Key suspect Anders Behring Breivik – a blond, 6ft, 32-year-old Norwegian – was arrested after a gunman opened fire on a summer camp of students who had met to spend a long weekend discussing politics, playing football and enjoying music. The camp was organized by the Workers' Youth League and was a meeting for young socialists.
Breivik was also believed to be linked to the explosions that ripped through Oslo earlier in the afternoon.
As police began searching the flat that he shares with his mother in a wealthy area of western Oslo a picture began to emerge of a loner with links to right-wing extremists and who had been well-educated and enjoyed hunting.
Breivik appeared to come from an affluent background, attending a middle-class secondary school in the city. Apart from a traffic conviction ten years ago he has no criminal record, according to a Norwegian newspaper. He completed a year of national service in the army.
Breivik had set up his own business, Breivik Geofarm, and a month ago had started to run an organic farm in Hedmark in eastern Norway. There he reportedly produced and stored fertilizers that he was able to use in explosives.
He was known to be active on the internet, expressing extremist Islamophobic views on forums and criticizing immigration policies.
He recently claimed that politics today was not about socialism vs. capitalism but nationalism vs. internationalism. He argued on a Swedish news website that the media were not critical enough about Islam and claimed that Geert Wilders' Party for Freedom in the Netherlands was the only "true" party of conservatives.
---
A commenter at little green footballs has pointed out that Breivik is also a fan of Pamela Geller, whose blog Atlas Shrugs he has cited.
Update:  Breivik recommended other sites associated with the so-called counter-jihad movement, notably Jihad Watch, Gates of Vienna and the Brussels Journal. In December 2009 he wrote that he was working full time to promote the ideas of Islamophobes like Robert Spencer and Bat Ye'or.
He also wrote of his contacts with the English Defence League and Stop Islamisation of Europe and claimed to have given them advice on strategy. He attached importance to building "a Norwegian version" of the EDL to fight against anti-fascists and anti-racists.
Attempts to set up a Norwegian Defence League have been beset by problems, including accusations that the organisation had been "taken over by neo-Nazis". It would be interesting to know what role if any Breivik had in this.