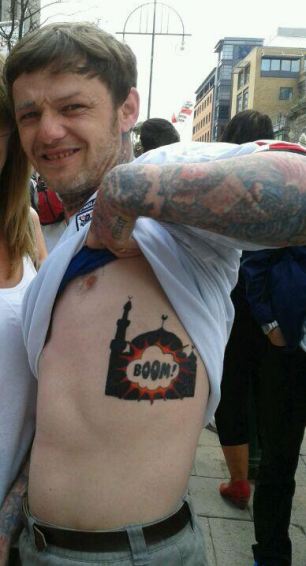 A man who revealed a tattoo of a mosque being blown up during an EDL rally has been arrested after he was exposed by Sky Tyne and Wear.
Shaun Reah, 39, has been arrested on suspicion of inciting racial hatred after he was pictured lifting up his T-shirt to reveal an image of a Muslim place of worship with "BOOM!" emblazoned across it.
The image, taken during a demonstration organised by the English Defence League in Birmingham on Saturday July 20, triggered a public outcry and Mr Reah has received hundreds of death threats.
When he was tracked down by Sky Tyne and Wear, Mr Reah, from South Shields, revealed he had the tattoo removed because "it upset everyone".
Reah's solicitor Kevin Smallcombe, of Hannays Crime Solicitors, confirmed the arrest.
Mr Smallcombe, who has been involved in some the North East's most high profile cases, told Sky Tyne and Wear: "Mr Reah is happy to fully cooperate with police in what is a case which has clearly triggered a great deal of emotion and debate."
A spokesman for Northumbria Police said: "A 39-year-old man has been arrested in South Tyneside on behalf of West Midlands Police on suspicion of using words or behavior, or displaying written material with intent to stir up racial hatred."