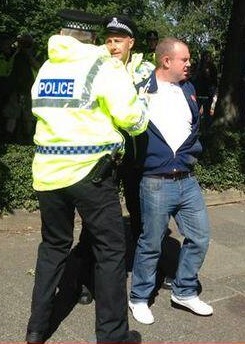 Trouble flared as an English Defence League (EDL) march was led through South Shields.
About 250 members of the right-group were protesting in the town today. A heavy police presence led the march from Mile End Road through Fowler Street to Beach Road and down Sea Road before being marshalled into an area outside South Marine Park.
When the march reached Pier parade it was met by a rally of about 100 anti-fascist protesters who had gathered at the junction of Ocean Road and Lawe Road. At least one person was arrested after emerging from the trees in North Marine Park and running towards the anti-fascist rally. The rest remained behind a police cordon at the Wouldhave Memorial.
As the EDL demonstrators were led back to the town centre, they broke away from the police escort on Beach Road, towards Hatfield Square. A witness said: "Four or five youths appeared about 50 yards down the road and some of the protesters ran towards them." Police quickly contained the situation by stopping the march and steering them back on to the agreed route back to South Shields Town centre.
Shields Gazette, 31 August 2013
Hope Not Hate counted 200 on the EDL march. Prominent among them was the EDL's North East organiser, former British National Party parliamentary candidate and convicted thug Alan Spence.
Update:  See "Local residents oppose EDL march in South Shields", Indymedia, 31 August 2013
And "Seven arrests at English Defence League march in South Shields", Northern Echo, 1 September 2013
Update 2:  The Evening Chronicle reports that the leader of the EDL's Hartlepool Division, Craig Owens, who was one of the seven people arrested during Saturday's march, has been charged with disorderly conduct.