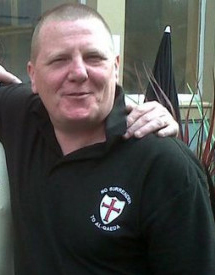 The English Defence League's North East regional organiser Alan Spence has been jailed for his part in an attack on a socialist meeting, along with several of his racist and fascist cohorts.
Spence is a leading figure in the EDL – and a key link between the EDL and the British National Party: he stood as a parliamentary candidate for the BNP at the general election.
He was sent down for seven months today, following the attack at the Tyneside Irish Centre, where the Socialist Workers Party was holding a meeting last September.
His son, Steven Spence, a former BNP local council candidate, was jailed for eight months for his part in the same attack.
In a post on Alan Spence's Facebook page, his partner Tracy King said: "just letting u no alan got 7 month our son steven got 8 month other 5 lads got jailed aswell".
Other sentences for the attackers reported on relatives' Facebook pages include 10 months for Peter Duffy and eight for Barry Keddy.
UAF news report, 2 December 2011
See also EDL News, 2 December 2011
Update:  See "EDL gang jailed for attack at Newcastle Irish Centre", Newcastle Evening Chronicle, 3 December 2011
And "Extremist gang stormed rivals", Shields Gazette, 3 December 2011
Update 2:  See "Disorder at Newcastle's Irish Centre",Northumbria Police news report, 5 December 2011