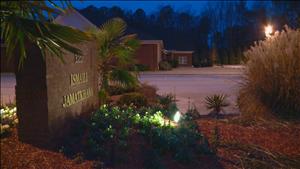 FAYETTEVILLE, Ga. — Fayette County Sheriff investigators are trying to find out who took shots at a Muslim house of prayer early Tuesday morning. Deputies were alerted when an alarm went off in the Ismaili Jamatkhana on Flat Creek Trail at 2:08 a.m.
"A responding Deputy Sheriff arrived on the scene and located the appearance of gunshots to the building," said Sheriff Barry Babb.
Deputies found four windows on the back side of the building shattered by gunfire. No one was in the building when it happened.
Farida Nurani, a spokesperson for the Jamatkhana, said the building is a house of prayer and community center. Nurani said security measures are being taken and guards will be at the building 24 hours.
Sheriff Babb said investigators are trying to find out if it was a hate crime. "Until we know a motive, we're just going to treat it as such," he said. "That way we treat it as seriously as possible until we rule it out."
Nurani said she doesn't think it's anything more than an act of vandalism. But the Sheriff said they can't afford to assume that. FBI Special Agent Stephen Emmett told 11Alive News the FBI office in Atlanta is looking into the case.
Sheriff Babb said the Jamatkhana has been in Fayette County for five years and never had any other problems. Investigators are asking anyone with information about the incident to call the Fayette County Sheriff Office at 770-461-6353.