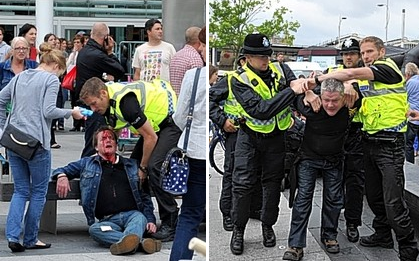 Hull North MP Diana Johnson has written to the Justice Secretary to express concerns at the "lenient" sentence given to an EDL thug who punched a man during a march. As previously reported in the Mail, John Claydon, 46, laughed as he left court after receiving an 18-month community order for attacking anti-fascist protester David Harding outside St Stephen's shopping centre.
Claydon, who had a string of convictions for violence, was also ordered to do 100 hours' unpaid work and pay £500 compensation. But Ms Johnson believes the sentence, passed by Recorder Michael Smith, was too lenient and has written to Justice Secretary Chris Grayling with her concerns.
Martin Lennon, Ms Johnson's researcher, said: "Diana wrote to Mr Grayling because she was concerned by the sentencing guidelines employed by the judge in this case. Diana felt that there were several aggravating factors in this case that were not properly taken into account. This was a particularly vicious attack, which was not provoked. Moreover, Mr Claydon had a history of violence."
When sentencing Claydon, Recorder Smith said it was a sensitive case, but told Claydon the politics of the march were "of no concern" to him, before adding: "I am sentencing you purely and simply for the act of violence in a public place." Ms Johnson was especially concerned about these comments, said Mr Lennon.
He said: "Of particular concern was the fact that the judge said that the political nature of the protest and, therefore, the context of the attack, was not a relevant factor to consider when sentencing. She is also copying the letter to the Director of Public Prosecutions to ask him to consider whether it may be more appropriate to prosecute such cases as racially motivated assaults in the future.
"In some cases, the Attorney General is able to review and appeal against a case where the sentencing is seen as unduly lenient. This then sets a precedent for future cases. However, he only has this power in relation to certain offences, and actual bodily harm, which is the offence Mr Claydon pleaded guilty to, is not one such offence, hence why she wrote to the Justice Secretary."
HGV driver Claydon, 46, of Dronfield, Derbyshire, was caught on CCTV punching Mr Harding, who was part of a small group of men and women taking part in a so-called "silent" counter-protest in Ferensway, city centre, on August 17. Claydon has convictions for violence from 1999, 2001 and 2007.
Prosecutor Stephen Welch told Hull Crown Court how there was a heavy police presence, with some 300 EDL members taking part in the march. He said: "At about 2.20pm, it became clear there were six to eight people who were protesting against EDL. The complainant had been holding a banner stating Hull is multicultural. Mr Claydon punched Mr Harding repeatedly in the face. Mr Claydon continued to punch him while Mr Harding was on the floor. It did not cease until he was hauled off Mr Harding by PCSOs."
The attack happened in full view of children, said Mr Welch. Mr Harding suffered a cut to his forehead, which required ten stitches, and two black eyes.
Hull Daily Mail, 28 September 2013
The EDL itself was very happy with the leniency of John Claydon's sentence, with the Sheffield Division hailing what they described as a "decent result" for "our Jonny". Indeed, they were so pleased that they invited Claydon to a "celebration bevvy" at the EDL's anti-mosque protest in Sheffield last Saturday, where they held a whipround to help him pay his fine.