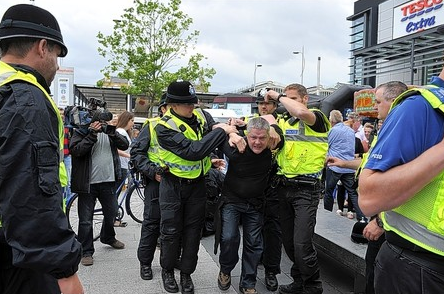 A thug who repeatedly punched an anti-fascist protester in front of children during an EDL march in Hull city centre has walked free from court. John Claydon, 46, was caught on CCTV punching David Harding, who was part of a small group of men and women taking part in a counter-protest.
Yesterday, Recorder Michael Smith sentenced Claydon – who has convictions for violence from 1999, 2001 and 2007 – to an 18-month community order and 100 hours' unpaid work. HGV driver Claydon, 46, of Dronfield, Derbyshire, pleaded guilty to assault occasioning actual bodily harm.
Prosecutor Stephen Welch told Hull Crown Court: "On Saturday, August 17, the EDL held a march within Hull city centre. There was a heavy police presence, with some 300 people on the march, as it passed along Ferensway, past St Stephen's shopping centre. At approximately 2.20pm, it became clear that there were six to eight people who were protesting against the EDL. The complainant had been holding a banner stating that Hull is multicultural." Mr Welch said the protesters – members of the group United Against Fascism – had been holding a "silent protest".
CCTV captured the moment two men, identified as Claydon and Melvyn Parker, broke away from the main EDL group. Mr Welch said: "Mr Parker grabbed the banner that Mr Harding had been holding and tried to push it away. He then pushed a female who approached him. That concluded his involvement. Mr Claydon then punched Mr Harding repeatedly in the face. Mr Claydon continued to punch him while Mr Harding was on the floor. It did not cease until he was hauled off Mr Harding by PCSOs." The attack happened in full view of children, said Mr Welch.
Mr Harding suffered a cut to his forehead, which required ten stitches, and two black eyes, and was off work for a week. Following the attack, he had trouble sleeping and is psychologically scarred, said Mr Welch.
Claydon admitted having attended previous EDL meetings, where he claimed to have been attacked, physically and verbally, by anti-fascist protesters. During an earlier hearing, Claydon had rejected the prosecution's case that he had punched Mr Harding up to six times. Richard Thompson, defending, said his client claimed to have heard members of the rival group shouting insults at soldiers. Mr Welch strongly denied this suggestion.
Mr Thompson said: "Mr Claydon accepts that he allowed his emotions to get the better of him. The assault was over within ten seconds. This was not a sustained attack."
Sentencing, Recorder Smith said it was a sensitive case, but told Claydon the politics of the march was "of no concern" to him. He said: "I am sentencing you purely and simply for the act of violence in a public place." As part of his punishment, Claydon must complete an anger management course and pay Mr Harding – who was not present in court – £500 compensation. Parker, 46, of Mansfield, Nottingham, was made to pay £265 costs at a hearing at Hull Magistrates' Court on September 1.
Hull Daily Mail, 21 September 2013
You might have thought that the English Defence League – who claim to be a human rights organisation that repudiates violence – would be eager to dissociate themselves from Claydon's thuggery. But apparently not. The EDL's Sheffield Division have hailed what they describe as a "decent result" for "our Jonny", and they have invited Claydon to a "celebration bevvy" today – presumably at the EDL's anti-mosque protest in Sheffield – where they will hold a "good whipround" to help him pay his fine.