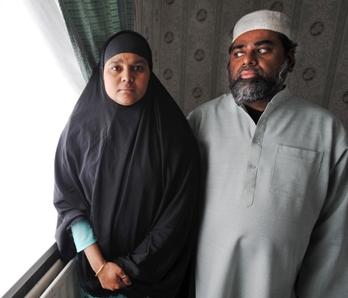 A family who were forced to flee their home after years of racist abuse said seeing their tormentors punished in court has helped them move on.
Sabana and Salim Amod left Leicester's Saffron Lane in June, after two years of abuse and vandalism. Yobs smashed the windows of their Helmsley Road home, slashed their car tyres, sprayed racist graffiti about their Muslim faith on their front door and threw stones at the couple and their children. Several people have now appeared in court charged with racially-aggravated offences.
The Amods, who are now living in Highfields, said it was difficult going to court, but they wanted their tormentors to know the hurt they had caused. Mum Sabana, 40, said: "I was frightened when I went to court, but I wanted them to see me and the harm they have caused me and my family. I think it is very sad it has come to them being in court because I offered them the chance to stop and apologise, but seeing them face punishment has helped us put it behind us.
"My children still have nightmares about bricks coming through the windows, but we are slowly settling into our new peaceful life. There is one more case to go to court in January – I think maybe after that we can move on a little bit more, but the memories will never fade."
In court last month, a 16-year-old boy admitted racially-aggravated criminal damage, and was ordered to pay the Amod family £100 in compensation. A 54-year-old woman was fined £167 and ordered to pay £25 compensation for racially-aggravated threatening behaviour, and a 21-year-old man was ordered to carry out 120 hours of community work and to pay £100 compensation after admitting racially-aggravated damage. In January, a 15-year-old will face magistrates, charged with criminal damage of the family's car.
The family, who are originally from India, said their new neighbours had welcomed them. Sabana said they feel safer in their new home. "We really feel part of the community," she said. "When we arrived, people recognised us from the stories in the Mercury, about what we had been through, and they were kind to us."