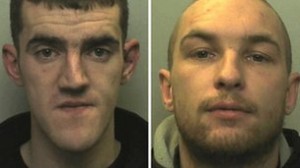 Two men have each been sentenced to 10 years in prison after being found guilty of deliberately setting fire to a Stoke-on-Trent mosque.
Ex-soldier Simon Beech, 23, and Garreth Foster, 29, both from Stoke, were found guilty of setting fire to Hanley's Regent Road mosque on 3 December. The pair both denied running a pipe into the building from a nearby gas meter in a bid to spark an explosion at the mosque, which suffered about £50,000 damage as a result of the fire.
Speaking after the verdicts were delivered, Rana Tufail, a member of the mosque committee, said it was "difficult" to describe the arson attack. He said: "It is a community project. They have put their soul into it. They have put their earnings into it and they [Beech and Foster] tried to destroy it. We are happy that it's still standing."
Ch Supt Bernie O'Rielly, from Staffordshire Police, added that he had no doubts that the pair's intention was to "blow the mosque up". "Without doubt that would have caused hate in the community, division in the community and broken down all the cohesion and good work we do," he said. "The community around this area have been an absolute credit. They've acted with such restraint and so dignified in the face of such provocation."
See also "EDL soldier and crony jailed for 10 years for Stoke mosque arson", UAF news report, 8 December 2011
The IRR's recent study The new geographies of racism: Stoke-on-Trent provides some useful context to the case. It can be downloaded here.