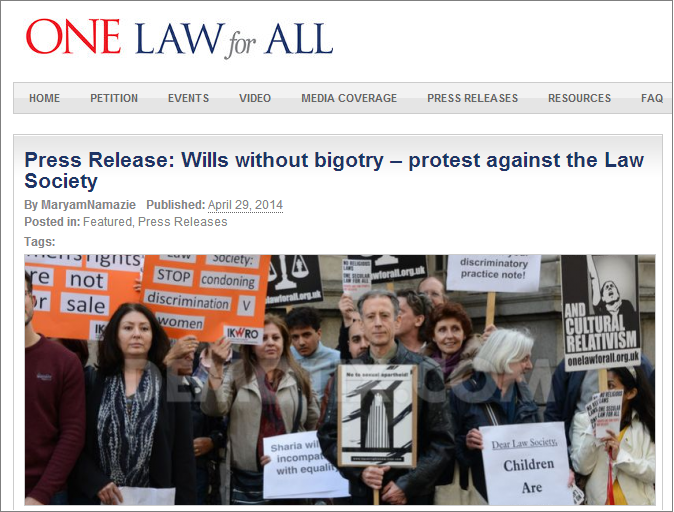 The hysteria whipped up by the Sunday Telegraph over the Law Society's guidelines for solicitors drawing up wills for Muslim clients (see here and here) has predictably been endorsed by the One Law for All Campaign, who organised a protest outside the Law Society headquarters.
OLFA, needless to say, denied that the protest was anti-Muslim. They issued a statement saying: "The fight against Sharia is clearly a defence of individual rights and freedoms, not an attack on Muslims. After all, Sharia Law is fundamentally the demand of Islamic states and the political movement to limit citizens' rights."
The statement, which of course ignores the reality that sharia in fact incorporates the principles by which Muslims organise their own lives in accordance with their religious beliefs, was clearly written by Maryam Namazie, who has a long record of promoting Islamophobic hysteria. This is the woman who wrote:
"'My Hijab, My Right' is like saying 'My FGM (Female Genital Mutilation), My Right'!!! The veil is an instrument to control a woman's sexuality, like FGM…. Today, more than ever before, the veil is political Islam's symbol…. The veil is not just another piece of clothing – just as FGM is not just another custom. I suppose if it were to be compared with anyone's clothing it would be comparable to the Star of David pinned on Jews by the Nazis to segregate, control, repress and to commit genocide."
You'll note, by the way, that one of those supporting the OLFA demonstration was Peter Tatchell. This hardly surprising, given that Tatchell too has a history of enthusiastically reinforcing right-wing Islamophobia. What might surprise you, however, is that Tatchell recently joined Tell MAMA (motto: "standing against bigotry and prejudice") as a patron. Tell MAMA director Fiyaz Mughal announced: "We are proud to have Peter associated with and involved with our work."
On taking up this post Tatchell himself piously declared the need "to challenge the unjustified demonisation of the general Muslim population. Freedom of religious and non-religious beliefs are fundamental human rights that we must defend and promote". Quite how assisting a hysterical right-wing campaign against the Law Society is in line with those objectives is unclear. Still less clear is how it is compatible with serving as a patron for Tell MAMA, given that Fiyaz Mughal has condemned the Telegraph's sharia wills campaign as an example of biased newspaper reports that "further re-enforce Far Right extremist positions and isolate Muslim communities as a whole".
Tatchell isn't the only controversial individual to be taken on as a Tell MAMA patron recently. Another is Richard Benson, former CEO of the Community Security Trust, the hardline Zionist organisation responsible for instigating the disgraceful and dishonest campaign that led to the deportation order against Raed Salah, which was subsequently overturned on appeal.
Fiyaz Mughal has defended both appointments. Evidently he believes that the best way to defend the Muslim community is by forming alliances with its enemies.