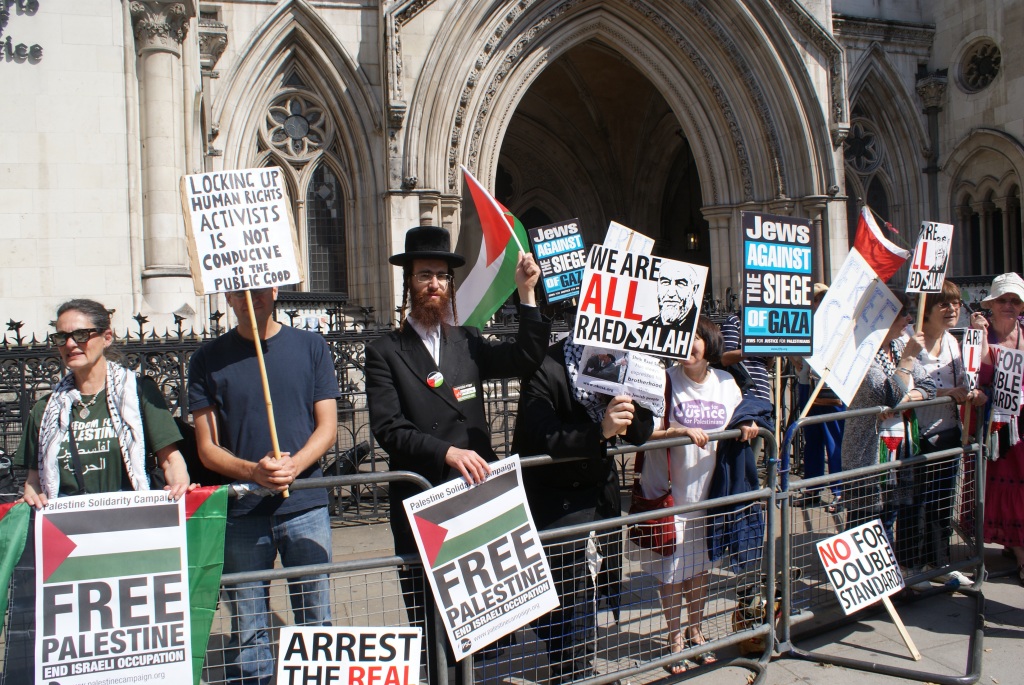 Demonstration outside Royal Courts of Justice in support of Raed Salah last July
Sheikh Raed Salah, the leader of the Islamic Movement in Israel, has won an appeal against his deportation from Britain, according to the group that invited him to the country.
Mark Ockelton, the vice-president of the UK's Upper Immigration Tribunal, ruled that the government's decision to deport Salah "appears to have been entirely unnecessary", and upheld his deportation appeal, a statement from the Middle East Monitor (MEMO) said on Saturday.
An earlier judgment awarded Salah "damages for wrongful detention" when the Palestinian activist, a citizen of Israel, was arrested outside his London hotel on June 28 last year. Theresa May, the British home secretary, had ordered the arrest and Salah's deportation.
Salah had been in the country on a speaking tour, and stayed on to fight legal cases and appeals against his detention and deportation orders. According to MEMO, Salah now plans on returning to Israel.
---
The MEMO press release notes: "It is understood that the Home Secretary acted initially on an email from the Community Security Trust and started the legal procedure which has resulted in humiliation for the government."
Update:  See also the report in the Guardian which adds:
The immigration tribunal had been told that the home secretary acted on information provided to the government by the CST and the Jewish Board of Deputies.

In its ruling, it said that "it is of concern" that May apparently did not consult any Muslim or Palestinian organisations. It noted the evidence of Robert Lambert, a retired head of the Metropolitan police's Muslim Contact Unit, and David Miller, a sociology professor from the University of Strathclyde in Scotland who set up the Spinwatch site, "that whereas the CST has done invaluable work in identifying threats to the Jewish community in the UK from the far right such as the British National party (BNP), it failed to distinguish between antisemitism and criticism of the actions of the Israeli state and therefore gives an unbalanced perspective, but they did not say that it was improper for the secretary of state to seek the views of the CST in this matter."
Update 2:  See also David Hearst, "Theresa May's haste to ban Raed Salah will be repented at leisure", Comment is Free, 9 April 2012