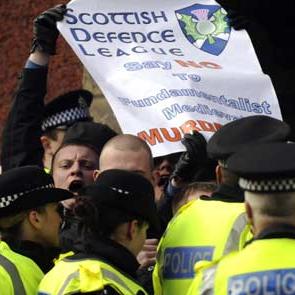 Anti-racism groups are mobilising a major counter-protest after the right-wing Scottish Defence League vowed to go ahead with a demonstration in Scotland's capital despite it being banned by the city council.
Councillors threw out the group's application last week, claiming they were worried about risking disorder and violent confrontations, despite police saying they had "no objections" to the march.
The SDL, an off-shoot of the anti-Islam English Defence League, is already promoting the planned protest on 10 September. Details of the route and location of any rally are being kept under wraps, after an SDL meeting in a Royal Mile pub in February 2010 was ambushed by dozens of anti-racism protesters, leading to scuffles in the street.
But the SDL has received messages of support from across the UK after announcing some form of demonstration in Edinburgh would go ahead regardless. One post stated: "The march is banned. We are having a static demonstration. And most likely the police will have to march us if they want rid of us."
The SDL spent weeks negotiating with police and council officials over its planned demo, which was due to leave from Regent Road, near the American consulate, and include a rally at the Wellington Statue at the east end of Princes Street.
Councillors said the threat of a "significant risk" of disorder outweighed concerns about flouting principles of freedom of speech by banning the march. The protest had attracted more than 1,000 complaints from politicians, anti-racism groups, community organisations and trade union leaders, who were concerned the group would trigger racial unrest. SDL representatives told the council the group had distanced itself from more hard-line members and the EDL, but left councillors unconvinced.
Luke Wright is spokesman for the Unite Against Fascism group, which is organising a public meeting in the city tomorrow to rally support for a counter-demo. He said:
"We've applied to the council for a counter-demonstration on 10 September after we spotted quite a bit of online activity about the SDL going ahead with a demo despite the council's decision last week. Despite enormous public opposition including a wave of complaints to the council, and despite political opposition it seems that the SDL still do not understand Edinburgh does not want their violent racism."
Update here