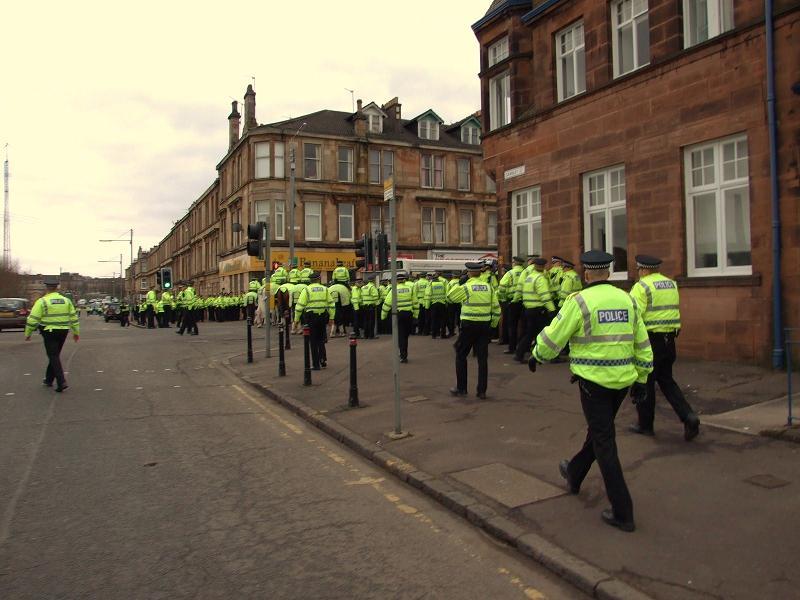 A protest by a handful of far-right demonstrators marking the first anniversary of the murder of a man by Asian youths threatened to bring chaos to a residential area of Glasgow.
Mounted police, helicopters and scores of officers yesterday were deployed on to the streets of the city's Pollokshields, home to Scotland's largest Asian community, despite a maximum of 10 members of the Scottish Defence League (SDL) turning up.
The group had wanted to lay a wreath near the spot where William McKeeney was murdered last January. It is understood Mr McKeeney's girlfriend, who witnessed the attack, and friends and relatives were horrified at attempts by the extremist group to associate themselves with their tragedy.
It had also protested outside the High Court in Edinburgh late last year when Asif Rehman and Adel Ishaq, both 20, were jailed for 16 years for the murder of the Donegal man.
The racial element of the charges against the pair was dropped during the trial.
Yesterday, a counter protest of between 50 and 100 members of United Against Fascism also gathered in Pollokshields and had to be kept apart from the SDL by lines of police.
At one stage, upwards of 20 officers were seen escorting three SDL members away from the flashpoint. Later, a group of counter-protesters broke away from the main group and charged towards the SDL but were kept apart by the police.
Locals also described how yesterday's episode led to Muslim women being escorted through the streets by police officers, while other people were denied entry to their homes as police attempted to keep the groups apart.
Picture:  Mean Street Photos